Use this project to inspire cute handmade birthday card ideas forever!
We think this project will be one of those cute handmade birthday card ideas that you come back to over and over. Renee has used a basic card layout to make one of the stinkin' cutest cards AND it's perfect for someone of any age! You can change out any of the elements and the colors and always have a design that is sure to delight whomever is lucky enough to receive it! Let's dive in!
Renee started by stamping those cuties from our Hippo set onto white card stock, colored them in with her markers and then cut them all out with our coordinating die.
Renee wanted this particular card to have bright, fun colors so she to use patterned papers for her card base and her layer. She chose bright, patterned yellow paper as her card panel and a pretty teal green with pops of yellow for the base. PRO TIP: Don't skip using a bone folder to get that nice sharp crease on your card base folds. A crease that isn't crisp can skew how the card lines up – sometimes to much that they won't stand up! – and a sharp crease looks infinitely better.
Renee then used our Slimline OPC Circle Dash die – one of our innovative slimline insert dies – inside the largest of our Slimline Nested Stitch dies to cut her bright pink card stock for her peek-through layer. The fun pattern of mini-circles around the larger circles, in combination with the little characters, creates a playful, celebratory mood on this card.
She layered her yellow panel onto her patterned card base using her tape runner and then adhered her pink layer over that with foam squares. Then she "dry fit" – arranged without adhesive – her little die cut elements and when she had them placed just so, attached them to her card using more foam squares and liquid glue.
For her greetings, Renee used Dreamer Color Fuse Ink from Set #9 on some scraps of white card stock, cut them into strips and angled one end of each, adding them to her card lining the straight edges up with the straight edges of her card. This small detail adds to the playful vibe of the card and adds lots of visual movement.
To echo all the little circles on this card, Renee added some little enamel dots and this card was ready to go!
Here are the items from our store that Renee used today: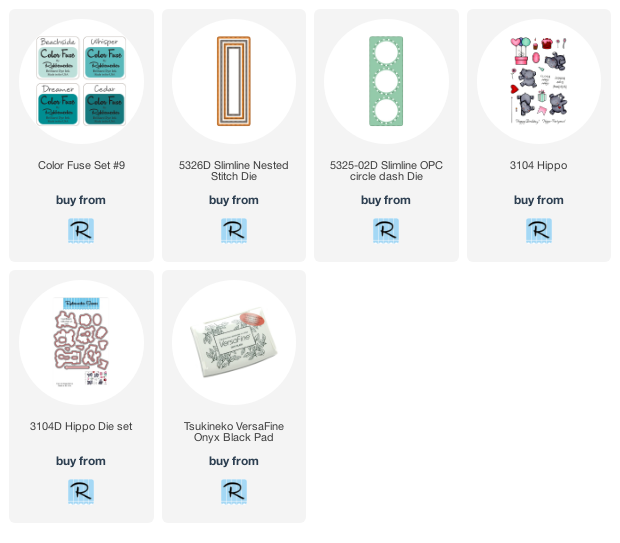 We love seeing cute handmade birthday card ideas like this – make it exactly like this with what you have on hand or switch things up to make it your own. Either way, someone out there whose birthday is coming up is VERY lucky!