Today we have not one but TWO under the sea cards to cool you off!
The story of how Lisa served up two super cute under the sea cards for us today is something we think we can all related to and is a hoot. Let's see what happened….
First Lisa started on her first background. She cut a panel of white card stock with our Nested Rectangle Small Stitch die and blended some Whisper and Beachside Color Fuse ink over it.
She then placed our brand new Wavy Stencil over this and blended Dreamer and Cedar inks through it. Note that the detail elements of your finished product will be your base color. We did this intentionally with this style because most of you said you like building layers for dimension and this was a better way for you to be able to do that and still have lovely highlights.
Lisa stamped a bunch of images using our Under the Sea #2, cut them out with the coordinating die and colored them with Copics.
Note that Lisa likes to use a teeny bit of washi tape to make sure her dies don't even budge a speck! This way she can cut several out at once.
Now she cut used our Circle Background with Stitch die to cut a piece of teal card stock and laid it over her inked background. (Lisa says one of her favorite things about using this die is that she has all the little leftover stitched circles to use on another project. SAVE THOSE SCRAPS!) She started to lay out her little elements and realized that she'd been having so much fun making those little fellas that she had enough to make a whole second card! Haven't we ALL been there?
So now she cut a panel of another shade of teal card stock with the same Nested Rectangle Die and blended Whisper and Beachside ink through another brand new stencil, Swirls. When she laid everything out, she realized she liked her circle layer better of this so adhered them together with dimensional adhesive for a little shadow.
Since she now needed something for her original wavy background she used our Window with Pierce Stitch die to cut a piece of white card stock and added that over her waves with more dimensional adhesive.
She chose her sentiments and stamped them on some scraps of white card stock, trimming and die cutting them to the shapes she wanted. She arranged all her little elements, saving some of the smaller ones to adorn her greetings which is a lovely touch.
How fun! Here are the items including the brand new stencils that Lisa used today: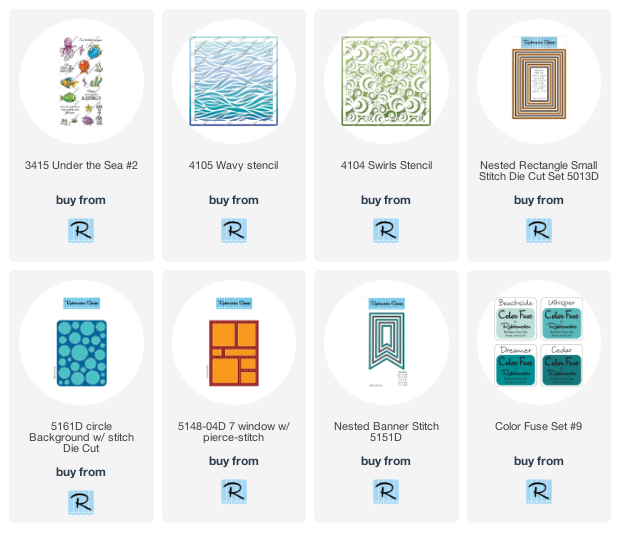 Whether it's to cool off or celebrate the beach, these under the sea cards are just adorable and we are sure you will find lots of summery occasions to share them!