Get the inside scoop on how to make this delightful floral thank you card.
This pretty floral thank you card is loaded with dimension and texture and gorgeous color. Thanks to some easy to use dies, it comes together super fast and is enhanced by that lovely pattern from one of the sheets from our Harvest Time Paper Pad.
Let's get all of Allison's tips and tricks and make one, too, shall we?
First, Allie used the medium sized die in our Nested Circle Scallop With Holes set to cut a doily shape from some light blue card stock. Taking a piece of card stock just a but lighter than that, she cut it with the largest die in our Nested Scallop With Half Holes die to create a layer. Using the second largest die in our Nested Rectangle Stitch Die Set Allie cut one of the sheets from the Harvest Time Paper Pad.
Allie Adhered the die cut layer to her card base with her tape runner, added the die cut patterned card stock over that with dimensional adhesive and then adhered the doily to the center with more foam tape to build a up some depth.
Next, she used our Small Flowers and Buchenera and Stems dies to cut some scraps of colored card stock, using her Copics to add some colorful shaded details to the die cuts.
She arranged these over her doily, adhering them with a mixture of liquid glue and dimensional adhesive to build up more depth and texture.
For her single element greeting, Allie cut more of the layer shade of light blue card stock with the script portion of our Thanks Word With Shadow die and cut a scrap of white card stock with the shadow portion. She adhered these together with dabs of liquid glue and then popped it over her arrangement with thicker dimensional adhesive for some real elevation. You can see here how this layering on layering just adds so much visual interest with nothing more than some foam tape!
To finish it all off, she added a Nuvo drops in the centers of her flowers and this charming card was ready to share!
Here are the items from our store that Allie used today: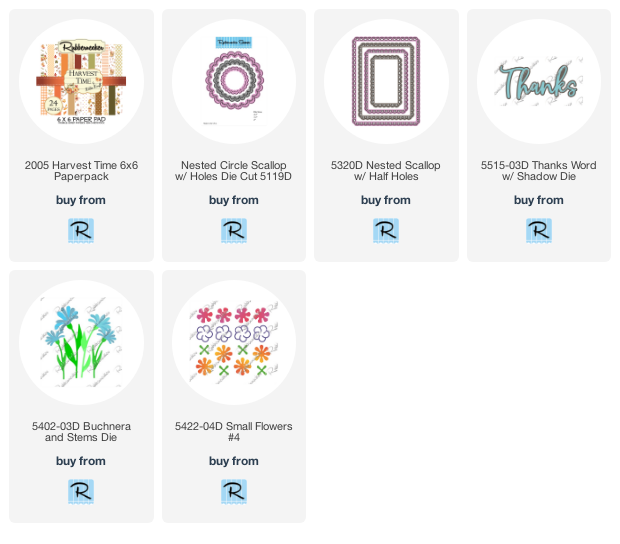 This floral thank you card is so universally appealing and the other designs in our Harvest Time Paper Pad lend themselves to this same design as well. Most are autmnal themed but if you are over making those kinds of cards, the flip sides of these also have beautiful solids and graphic designs that can work just as well!