Check out this stunning background for Christmas cards that you can make easily with Color Bursts!
Despite the atypical colors, this background for Christmas cards gives us all the winter feels. And it's SO easy to achieve this beautiful, dimensional, watercolor-y look using Color Burst powders and a stencil.
Melinda says "I enjoy making a bunch of backgrounds that I can use anytime I need a quick card. Its also nice to make a mess clean up and you have a stack of backgrounds to pull from." We love having gorgeous pieces like this in our stash, too! Let's get Melinda's method for creating this background so we can make our own!
PRO TIP: For this technique, you will want to use Pixie Spray or some other low tack adhesive that will "seal" the stencil to your paper to ensure that the watercolor doesn't seep underneath. You can get Pixie Spray at craft stores, many big box stores like Walmart or Target, or on Amazon. It lasts a long time!
On to the making! Start with a card panel sized piece of water color paper and adhere your stencil over it using that Pixie Spray. You may also want to add some painter's tape or old wash tape around the stencil to keep it in place on your work surface. Spritz the panel with about 2-3 sprays of a medium mist to dampen the surface of the water color paper.
Sprinkle your choice of Color Burst powders over the wet paper and, if the pigments aren't moving as much as you'd like to see, give it another mist. Carefully remove the stencil and set it aside.
Now, take another piece of water color paper and lay it over the wet panel to get another card front. Melinda says that she can get three to sometimes four additional card backgrounds from each original panel, with each piece getting a little lighter as the wet media transfers. This is one of the most fun things about this technique – you will get all kinds of beautiful and different looks from one application!
For today's project, Melinda used her first "pull" to show off the bold, bright effect you get with that first take. Because this background for Christmas cards with her snow theme had so much pop, it didn't need a lot added to it!
Melinda used our Merry Word With Shadow die and cut the shadow portion a few times from scraps of black card stock for contrast and the script portion from a scrap of white. She stacked these together to make a nice, thick element. She also used our Small Snowflake Die to cut some scraps of white and silver glitter card stock, stacking some of the white snowflakes with silver on top to echo the dimension she created with her word.
Melinda adhered her single layer snowflakes to her colorful background and then using a die from our Nested Rectangle X Stitch set, cut the panel to let the snowflakes pick up the same edging detail and to be perfectly trimmed.
She added her sentiment and the layered snowflakes to her card and for her final touch stamped "Christmas" from our Build a Phrase Holiday Set in Versamark onto a scrap of white card stock and heat embossed with some sparkly black powder. She trimmed it closely and popped it on her card and – VOILA! – GORGEOUS!
Here's what Melinda used today if you want to make this same card at home: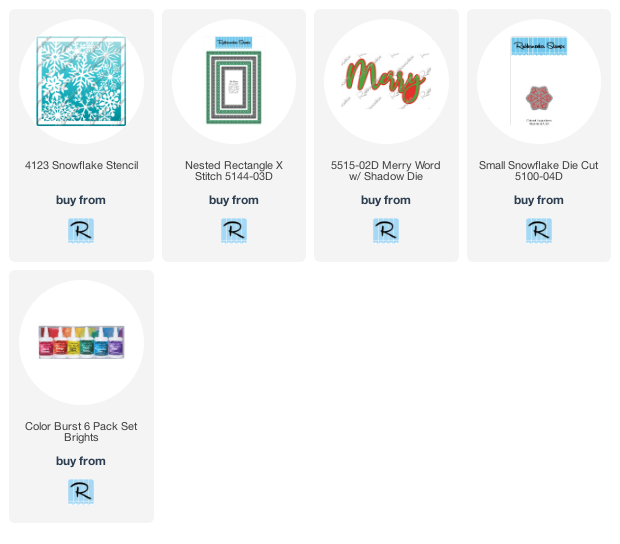 Are you inspired to try making this style of background for Christmas cards this year? A snow themed holiday card is lovely as a non-denominational card AND you can remove the Christmas reference and have a fabulous card design idea all winter long!!!