Feel the breeze from this super cute birthday card made with die cuts!
We love when our designers see things out of the box and this really fun birthday card made with die cuts combines several looks for something so colorful and festive! Dawn says "When I saw this bicycle I knew that I had to create a country scene where the Happy Birthday balloons were flowing off of the back. I can feel the wind in my hair riding this bike." We SO agree! Let's see how we can make this at home!
Dawn started by stamping her images from our Happy Birthday Balloons set onto white card stock with black ink.
She then colored them in with her Copics. (Here are the colors she used: Yellow – BV000 Y19 Y17 Y15 Y13; Red -B63 R29 R27 R35; Blue – B27 B24 B23; Tires – W7 W4. When she was done, she cut them out with our coordinating dies.
Next, Dawn chose three different shades of green card stock to create her hills, making sure each piece was long enough for this slimline card) using the Slimline Hills Die with your die cutting machine.
She also used our Tulip Stems and Cloud Trees dies to cut some elements from the same shades to offer continuity on the final project. And she grabbed some scraps in bold colors that complemented her balloons and cut some flowers using our Tulips Tops Die.
Then Dawn took a bright white card stock and used our Slimline Clouds Die cut out some billowy layers.
For her beautiful sky background, Dawn took a piece of white card stock cut to slimline card panel size at 8 ⅜ X 2 ⅞ and using her ink blending brush applied Arctic and Sky Color Fuse Inks from Set #7. Dawn says to start with Arctic and ink randomly all over the panel leaving white space between applications. Then got back in with the Sky to give you some depth with that slightly darker shade. Remember that your hills will cover the bottom third or so of the panel and the clouds will be at the top. PRO TIP: Before your ink your paper, brush your applicator over your mat to blot and soften the ink for a smoother blend.
Now you can experiment with how you want to place all these beautiful die cut elements you've created. Play around with layering the trees and flowers, the angle of your blowing balloons and where you'd like to site your sentiment. When you have everything in place as you like it, Dawn recommends taking a photo to help you remember how you liked it!

PRO TIP: Adhere your hills together first and lay them down as one piece. Then trim the excess from the back of the background panel. Repeat the placement and trimming with your clouds.
Don't forget to use foam tape and other dimensional adhesives to give your little scene made with all these die cuts some depth and dimension. Remember that you can double up on thicknesses to really build it up!

When you've got this panel all done, just pop it on a slimline card base and it's ready to get right over to the person who is lucky enough to receive it!

Here are the things from our store that Dawn used today: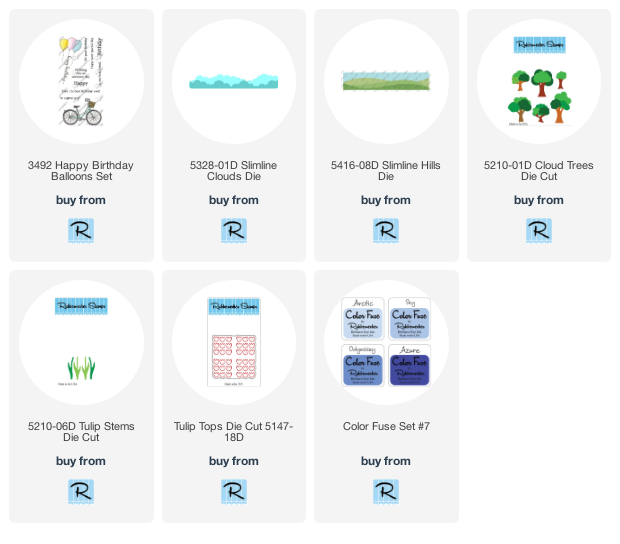 Extended Until the End of February!!
Don't Miss Out!!!
We are continuing our 30th birthday 🥳 celebration and are excited to pass on our final BIRTHDAY SURPRISE to you! Who's ready for a FREE SHIPPING WEEKEND?!?!? 🚐💌📬🎉 Say What? Shop between 2/24-2/28/23 and get free U.S. shipping on your order!
Plus, All orders that total $300 and Up will receive 15% + an additional 10% Discount at check out.
All Orders $200-$299.99 will receive 10% + an additional 5% Discount at check out.
All Orders $100-$199.99 will receive 5% + an additional 5% Discount at check out.
Here's a peek at the bicycle end:
And here are those balloons just flowing along behind:
We love how Dawn had her vision for this birthday card made with die cuts that you might not necessarily envision together. This really makes us want to look at everything WE have and see what fun new combinations we can create and sure hope it has the same effect on you!