Come see how you can make a delightful Christmas card made with non holiday stamp goodies from the Rubbernecker store!
Today's pretty card is from Sammi who said her inspiration was to create a Christmas card made with non holiday stamp designs. Can you spot the year-round motif she used?

It's our Floral Wreath set of stamps, stencils, and a die cut! This versatile set can be used so many ways because it's the coloring of the details that set the tone of the project. Sammi has shown this off to perfection with her artistic vision.

Let's check out her steps for the making and see how she used her color choices to turn this into a main feature on her holiday card.
Sammi started by stamping our Floral Wreath with a hybrid black ink and let the ink dry. Sammi says "I always take the time to make sure that the ink is dry before ink blending so that the black ink won't smear."
Sammi then used Color Fuse Inks with the coordinating stencils to build her shading. She started with Nectar Color Fuse Ink from Set #4 and blended the ink over the stencil to color the flower petals.
She went back with the flower detail stencil and Crimson Color Fuse Ink, also from Set #4, to add the flower centers.
For the greenery, Sammi added Basil Color Fuse Ink from Set #10 and added it with the first of the two leaf stencils in the set.
She then added Moss Color Fuse Ink from the same set and finished her stenciling with the second leaf stencil.
Being the card artist she is, Sammi went in with some Copic markers and added some darker highlighting to add some more dimension. When it was all colored she cut it out with the coordinating die.
Then, to amp up the holiday look for this card, Sammi stamped out the evergreen branches and a pine cone from our Winter Wonderland with the same hybrid black ink. After coloring them in with her Copics, pictured below, she cut out pine cone with the die from our coordinating set and the sprigs with her e-cutter.
Now that she had her elements for her card, Sammi turned to creating her beautiful white on white background. To create the look of texture, she cut our Lattice with Scallop Cover die two times with 120lb white cardstock. PRO TIP: Sammi says "When I want to add dimension without foam tape, I will use the 120lb cardstock and cut out multiples and glue them together." She did this with liquid glue and then adhered the element to her white card base.

For her sentiment, Sammie stamped her sentiment from our Winter Wonderland set with white pigment ink onto a dark red card stock and heat embossed it with white powder. PRO TIP: When you want a very crisp white heat embossed image, using white ink will amp up the contrast. Sammi cut this down to a neat strip.

Now she added her elements to her card. She adhered her wreath, tucked in her sprigs and pine cone and then added her sentiment with some foam tape adhesive for a little dimension. A few red pearl embellishments and this card was ready to go!
We think our Floral Wreath collection is so versatile and today Sammi is showing just how much that's true! Here's what you will want in addition to this gorgeous set to make this card: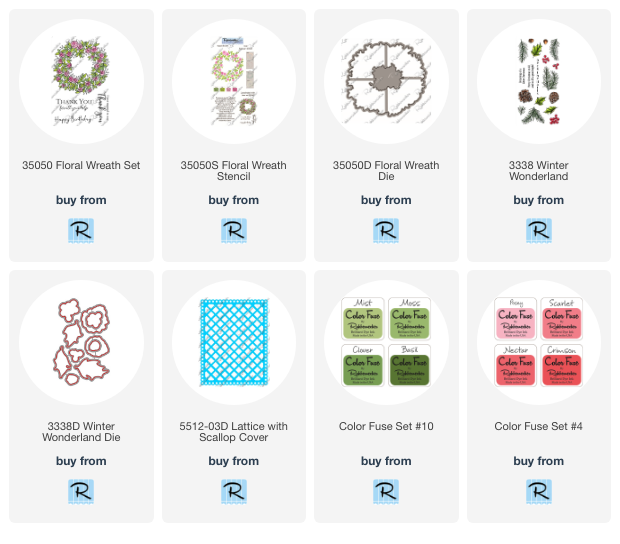 We love this Christmas card made with non holiday stamp items and hope it has given you a new and fresh way to look at different designs. Browse your stash to see what you have that can be adapted and be sure to check out out store for any items you might need to fill in or support your new take on a non holiday stamp or die.