Make a STACK of these clean and simple birthday cards!
One of the great things about mini slimline cards is that thanks to their compact size and rectangular shape, you don't need a ton of things on one to make it super cute. This clean and simple mini slimline birthday card packs ALL the celebration in with an easy to make, super fun stacked cake.
Speaking of birthdays, if you've been following along this month you know that this is our birthday month and we've been celebrating by sharing deals and goodies with you. This week, through the 20th, place an order of $29 or more and we will add this FREE mini stamp set in your package!
Now let's get to learning how Jean creating this fabulous clean and simple mini slimline birthday card!
To get started, Jean stamped one of the sentiments from our Happy Birthday #1 stamp set on a piece of light blue card stock roughly cut to mini slimline card size.
She then cut the different elements of her gorgeous tiered cake using our Birthday Cake Die set and scraps of pink, blue, white, yellow (for the flames) and silver foil (for the stand) card stock. She assembled these with liquid glue and some good old fashioned tape on the back to keep everything together.
Next, Jean used the two largest dies in our Mini Slimline Nested With Stitch set to cut a frame from some patterned paper.
She then placed her frame over her stamped light blue panel to get her alignment of the greeting exactly right and trimmed that panel to fit just so. Great twist on trying to get the stamp centered – stamp first and THEN trim! She then adhered her now perfectly aligned light blue piece to her mini slimline card base and popped the frame over that all with her tape runner.
She added her fabulous cake to the card front with some dimensional adhesive and then added her custom embellishments that she made by cutting some glitter card stock with our Fishing Boat and Lifeguard Tower Die sets to get those different sized circles. Is that not a GENIUS way to use up scraps and dies you would NEVER put together? Sometimes our Design Team sees things we don't! So smart!
Here are the items you will want to snap up from the store to make this card: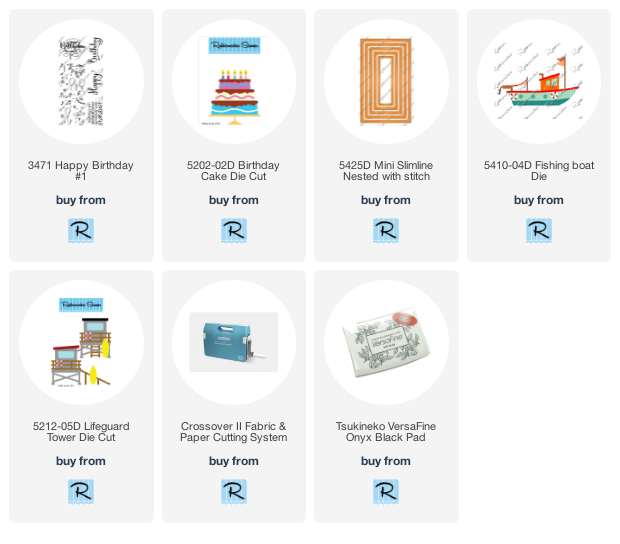 Honestly, this clean and simple mini slimline birthday card could be "your" card that you send to everyone and change up the colors and patterns depending on who you are sending it to! And remember, mini slimline cards are PERFECTLY sized for checks, cash, gift cards………