Today's beautiful color wheel in ombre is all you need to make this card a work of art!
Today we have a beautiful, clean and simple birthday card made by Melinda. She created a color wheel in ombre effect with die cuts and it is simply breathtaking! We can see this done in so many variations with different die cuts, a single color ombre look and even as a row instead of a circle. Any way you put this together you will have gorgeous results!
Melinda says "I really enjoy ink blending and find it quite relaxing. Color Fuse inks are one of my favorite inks because of their vibrancy." We are so glad you love our inks Melinda – we LOVE what you do with them!
Let's dive into the making!
Melinda started with a piece of white card stock for her ink blending. She blended the colors of the color wheel, starting with red and ending with purple. Melinda says to make sure you blend enough to cut two leaves from each color application. She also says "The ink blending doesn't have to be totally smooth – you can't tell after cutting the leaves." Phew – we love it when we don't have to fuss!
Next, Melinda used one of the dies from our Leaf Trio die set to cut her elements. Melinda made sure to cut some of her leaves from the areas where the colors meet to add interest and accentuate the feeling of that ombre effect.
Here they all are cut out – aren't they just so beautiful?
Melinda made a 4 1⁄4" X 4 1⁄4" card base and arranged her leaves in a circle to test fit her design. She determined what size circle she wanted for the center and die cut it from a piece of white card stock. She then stamped the circular sentiment design from our Happy Birthday set in the middle with black ink.
She adhered her sentiment circle to the middle of her card with some foam tape to both add dimension and give her space to affix her leaves. Melinda adhered them one at a time for perfect placement.
Here are the things you will want to take out to make this card: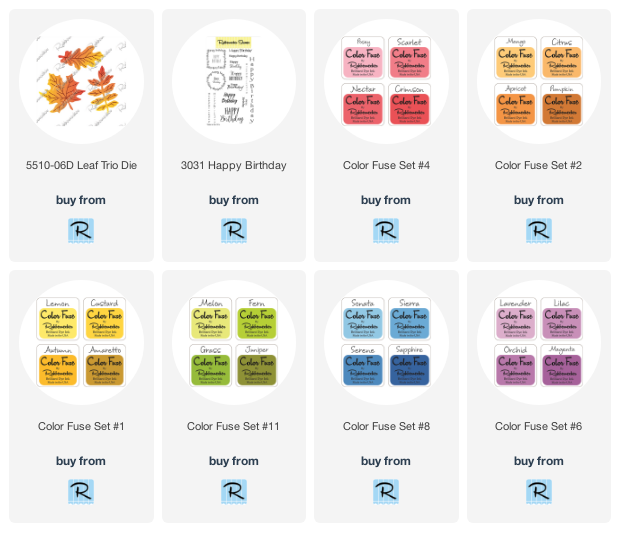 By the way, if you hadn't heard, this month marks our 30th birthday as your favorite paper crafting company! To celebrate, we are sharing gifts with YOU. From today through next Tuesday – Valentine's Day – spend $50 on goodies from the store and we will tuck in this exclusive 4″ X 6″ birthday stamp set!
We can't believe how easy it is to make a color wheel in ombre in this style and are already thinking of other ways to use this. What about you? How would you try this out?