Watch today's FREE video for an idea for a contemporary Christmas card to make with just a few of our dies!
We are taking a little break from our Flashback Fridays to share an idea for a contemporary Christmas card to make from Ricky that is so stinkin' cute and fun! And it's all die cuts so you know what that means – it is a great batch card!

Before we get to the steps and the awesome helpful video Ricky made for us, we wanted to share a little message from him that we got such a kick out of.
"Today's card is Christmas. Yes I know it is August, but you know what? The pumpkin spiced latte just came out at Dunkin' Donuts so I guess it is free game!
On an exciting note, as you are reading this entry, myself and fellow card maker and Rubbernecker designer Melinda are at the Stamp and Scrapbook Expo! We will be sure to say hi to Rob for you while we are there! "

We sure are happy that the two of you will be there – we love showing off our talented peeps' projects and when there's a celebrity sighting……well……that's some sugar on top!
Let's watch Ricky's video and then we will share his steps written out so you can follow along:
Here are the steps if you want to read them rather than watch them:
Cut each part of the owl out of the Build an Owl Die.
Then cut out each item of the Christmas Owl Add on die
Using the pierced plaid cover plate, place a white piece of paper on it and run it through the die cutting machine.
Then take the leaf cover die and do the same.
Dress the owls up in your favorite Christmas outfit.
Then white heat emboss your favorite sentiment from the Merry Christmas Large/Small Stamp set.
I chose the fussy cut the sentiment to be smaller on the card.
Glue the leaf cover plate die cut to the pierced plaid background
Then place foam tape on the back of the owl and sentiment and place on the card!
Lastly, Merry Christmas, six months in advance!
Here's what you will want to make this card and all the variations you can dream up!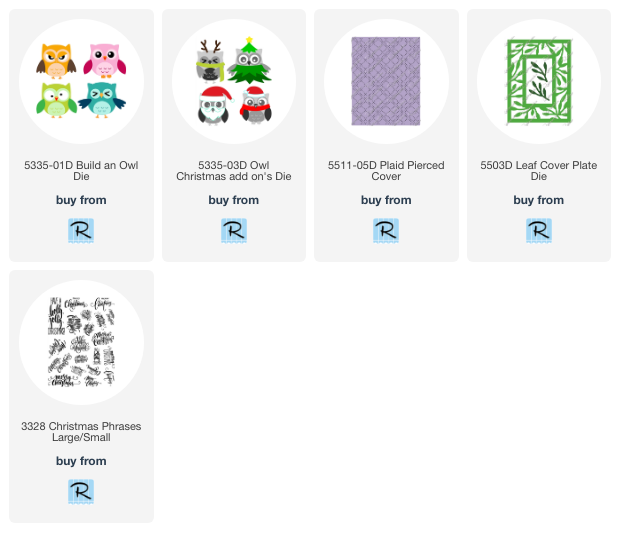 This contemporary Christmas card to make one or a stack of just has us so happy and cheery! Give it a try and see if it doesn't make you smile as much as does us!