Today we are sharing some fantastic Copic marker background tips that will make you look like a pro!
We are so excited to learn some Copic marker background tricks today from Carol that really help any stamped image pop right off the card. From adding essential shadows to creating a vibrant, shaded dark background, these simple techniques are mainstays in card making. Let's get right to it because they are so easy and so effective!
First, Carol stamped our Snowman with Animals onto Copic friendly paper with Copic friendly ink. Then she added shading to these snowmen because white objects aren't just flat white – they have dimension and shape. Adding shading with the palest shades of grays, violets and blues add that dimension. Start by laying down the darkest color in the spaces that will be most hidden from the light and shade out to the lighter colors, following the lines of the object you are shading. Carol used Copics BV20, C1, and B0000 to add the shadows to the stamped snowmen.
Then she added shadows under the snowmen at the horizon line to help them really stand out from what will be that rich background. Carol used the same Copics with the addition of B0000 to give an even more pronounced emphasis to those shadows.
She then finished coloring in all her details with her glorious Copic color collection!
When she was done coloring, Carol cut out her panel with the fourth largest die from our Nested Rectangle Small Stitch set. She then masked the border between the edge and the stitches with removable tape and colored the entire background using dark blue Copics in shades B69, B28, B18 and FB2. You can see how adding this deep color to the background makes the whites REALLY pop!
Carol peeled off the tape to reveal the white border and checked for any bleeding – it happens to even the pros so don't be dismayed if you see some! Carol says that sometimes a regular white gel pen is enough to make the corrections. And she also shared with us that she recently started using a Posca .7mm Paint Pen and that it works BEAUTIFULLY. Look for one at your local craft store! It worked so well, she used it to add her snowflakes/stars over the background and to make other tiny corrections and add other tiny details.
Once everything was dry and looking so awesome, Carol layered this over a layer of black card stock and added some foam tape to the back. She then used our largest Nested Rectangle Small Stitch die to dry emboss her card base (follow the directions for an embossing sandwich for your specific die cutting machine). She also stamped the sentiment from our Snowmen With Presents in black on a scrap of white, trimmed it closely and then layered with a scrap of black card stock. She then added her panel to the card front and the sentiment with even more foam tape.
All Carol had left to do what add some sparkle with a clear glitter pen to her little frosty friends and over the ground, because, as she says "Every Christmas card needs at least SOME sparkle – haha!".
SO adorable, right? Here are the things from our store you will want to have on hand to make this card: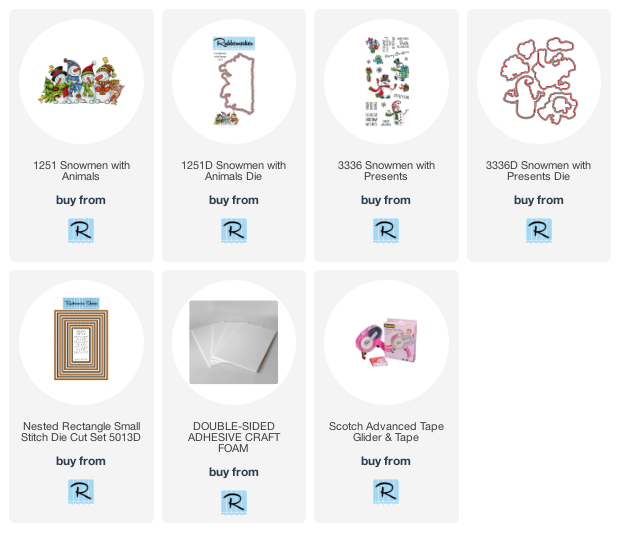 Aren't these Copic marker background tips so helpful? We can't get over how much extra these adorable images truly do POP with the addition of the shading, the shadows and that velvety background! Give it a try!