This adorable unicorn is PERFECT for today's cute mini slimline shaker card!
Mini slimline cards are still a fan favorite of card makers and one way to make them even MORE special is to turn them into shaker cards. We love that Allison was inspired to make this cute mini slimline shaker card using our new, adorable unicorn set! These chonky charmers are so chill and you just look at those faces and you can't help but smile.
Making mini slimline shaker cards is no different than making any shaker card. You have your base, your window, your window "pane" and your shakies/shaker filler. There are a couple of little tricks to putting them together but once you make one, it's like second nature when you go to make the next.
Let's follow along with Allie so we can make one of these cuties at home.
Start by cutting a piece of white card stock with our Mini Slimline Cover #4. Cut a piece of vellum to just a whisper smaller than the outside measurements of the die cut. Adhere the vellum to the back with liquid glue.
NOTE: You can use any transparent or semi-transparent material for your window "pane". Consider what you will be using for your shaker elements and know that softer colors or finishes might not show through vellum as well as a clear sheet.
Now adhere thin strips of foam tape to the inside of the window "pane" where there is card stock. NOTE: You can just outline the entire rectangular section but know that your shaker filler will settle at the bottom of the whole card. The way Allie has created her shaker containers will ensure that there is some motion in every little spot from top to bottom.
Next, use Allie's GENIUS tip and adhere a few larger shaker elements in place on the inside of the window with tiny dots of clear drying liquid glue.
Then fill the little windows with your glitter, sequins, tiny elements, punchies – whatever you are using.
Cut your backing piece of card stock to fit your shaker window. Here's another fabulous PRO TIP: Peel off the backing from the foam tape on your shaker window. Apply a layer of liquid glue OVER the sticky areas. Line up the back of the window as best you can and press gently. Now flip this over and, thanks to the liquid glue, you can make any adjustments you need to get everything aligned.
For a fanciful detail, wrap some baker's twine or trim around the top a few times and tie off in a bow.
For even more dimension, adhere your shaker window to your border panel with dimensional adhesive and then adhere that assembly to your card base with your tape runner.
Stamp the unicorn onto white card stock and color him/her in with your favorite coloring tool and cut him/her out with our coordinating die. Add this little love to the front of the window with more dimensional adhesive.
For your sentiment you will need to use a stamp positioner for the two tone effect. Cover the word "unicorn with some washi tape, ink up the stamp with black ink, REMOVE the washi tape and stamp onto some white card stock. Without moving either the stamp or the card stock, clean the stamp and ink up the word "unicorn" with your choice of Color Fuse ink (Allie used Apricot from Set #2) and stamp again. NOTE: It's OK if your second color gets on the other words a bit because it won't show over the black.
Trim your sentiment and mat on a complementary color scrap of card stock. Adhere this to the front of the card with more dimensional adhesive. Add a few gems or jewels for more visual impact and your card is ready to delight someone special!
SO cute, right? Who wouldn't just grin from ear to ear when they pull this out of an envelope?
Here are the items Allie used today: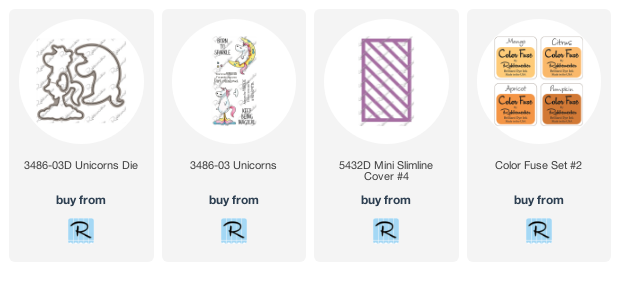 You can use this cute mini slimline shaker card design idea with any of your favorite stamps. These scaled down versions of shaker cards are always a hit and, as we said, once you make one, you will totally have the hang of it!