Check out this cute way to create die cut card belly bands to add some WOW to your handmade cards!
Belly bands can be a fun way to add some extra detail to a card project. There's just something about the anticipation of what is inside when someone slides these interactive details off the card. Today, Colleen is sharing her twist on this with how to make die cut card belly bands using another sneak peek item from our release coming Tuesday.
NOTE: While you may remember seeing this stamp set from us before, we've reformatted them into clear stamps to make it even easier to line them up and get them situated just so on your projects.
Colleen says "I looked for a fun interactive technique that would bring this card to life" and we say she hit the mark! She even made a video for us so we can see her talents in action. Let's watch and then you can scroll down for her detailed instructions.
Truly adorable! And Colleen adds so many sweet details! Let's get her step by step directions so we can try this out ourselves!
First, trim a 1 ¾" strip from the long side of a piece of white card stock to create your belly band. For fast scoring, center a standard card panel on the strip, mark the edges and score at those marks. PRO TIP: for a perfect fit, lay the card base you intend to use in within the scored lines and fold the ends in. Adhere so the belly band can easily be slid off the card but doesn't fall off by itself. Card stocks come in all different thicknesses and this easy belly band fitting works every time no matter the weight of the card stock you use.
Now stamp the forward facing puppers from our Dogs Front and Back onto a piece of white card stock and then the facing AWAY pups over the lower third of your white card base.
Get out your markers – Colleen used her Copics – and spend some "you time" coloring them all in. When you are done coloring, use our coordinating die to cut out the forward facing dogs and set it aside.
Take the card base and mask off the area under the dogs' feet and use one of the Slimline Hills dies as a mask just a bit lower. Ink up this space with Moss and Basil Color Fuse Ink from Set #10 as Colleen showed in the video. PRO TIP: You just want a hint of "grass" to ground the dogs so they aren't floating in space. Keeping this detail tight will help it to be covered by the belly band which helps keep that element of surprise when it is slid off the card.
Wipe off the die and then cut some white card stock twice with that die, adhering them together overlapping the hills for some dimension. Use the same Moss and Basil Color Fuse Ink and blend in some fresh green grass. When they are all colored, adhered them to the belly band in the position you like and trim the excess to fit the width of the band. NOTE: You will be stamping a sentiment on the left side so be sure that any overlapping of the die cuts won't interfere with it.
Using our Clouds Stencil, add a sky to give our canine companions something to admire. PRO TIP: When stenciling over an already stamped element, start your design by laying that stencil over what you've already stamped to act as a mask to create what will look to be an intentional part of that design.
Die cut the sun using our Sun Moon die from a scrap of white card stock and ink it up with Custard and Autumn Color Fuse Ink from Set #1. Add glossy accents to the center of the sun to add some shine. Let this dry THOROUGHLY and then add to your card.
Stamp the sentiment "Thank you for Everything You Do" from our Bunnies and Flowers set directly beneath the dogs feet in the center of the card base. Then, stamp the "Everyone Needs a Friends Who Is All Ears" on the lower left side of the belly band over the grass.
Now take your FORWARD facing furry friends and adhered them to the top of the grassy hills on your belly band. Trim off any excess – sorry, pooch! – and then slide the belly band over the card to hide the surprise pups!
Here's are the basic cards – which even without the die cut card belly bands are just so sweet!
And here's a card with the belly band added.
These cards are SO cute and they are both incredibly fun to make and send such a sweet and loving message in a unique way. Here's what Colleen used to make these for us. Remember, the links for the newly formatted stamp set and the coordinating die will go live Tuesday so come back grab these and see what other delicious delights we have for you!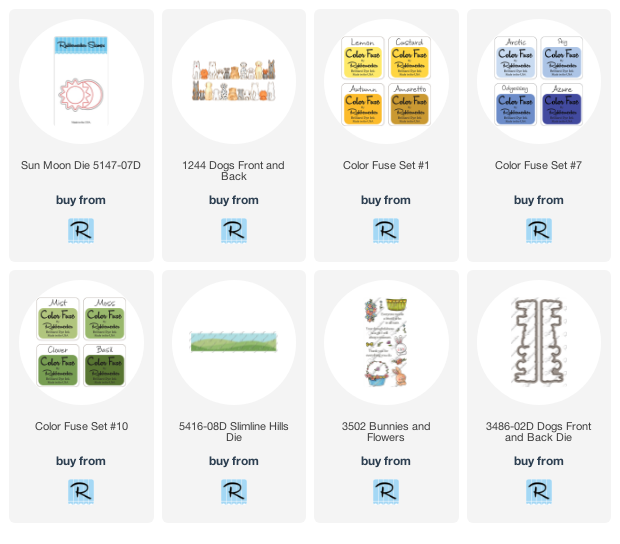 This twist on die cut card belly bands has us so excited to make some more of these cards (we may or may not have played around a little bit) and hope that this project has inspired you to think of what other die cuts you can use to add this interactive element to other cards!