Make an Easter Slimline card to give you space for all your creativity!
We are loving this adorable Easter slimline card! The way the bunnies are spaced out to give each one their own moment in the spotlight against an overall scene gives you so much to look at on one project. And Carol added those teeny tiny butterflies in a way that creates plenty of motion on the card so you just don't want to stop looking at it! Take a closer look…..
Let's make one! But before we get started, we want to remind you or let you know that all our slimline dies are ON SALE. From now through Tuesday you can take 20% off any and all of our slimline dies. But wait, it gets better! Spend $100 and you will get an additional 5% off your total. Spend $200 for an additional 10% off. And spend $300 and get an additional 15% off. This means if you want to build your stash you can get up to 35% off every slimline die we offer! These purchases will also count toward your Gold Status! Ok – back to the card!
First, create you base from white card stock. For those of you new to slimline card making – and this is a terrific project for your first! – cut your card stock to 7″ x 8 ½" and score and fold at 3 ½". That's it!
Then use the largest of the Slimline Nested Stitch dies to cut two additional pieces of white card stock. Use one piece to create your sky background. Carol did this by blending Arctic Color Fuse ink along the top with her favorite blending tools. PRO TIP: Carol started with one of our blending brushes and then, as she goes lighter or uses paler colors, switches to foam tools for speed, evenness and more control with those light colors.
Take the second die cut white panel and cut clouds with the Slimline Clouds die across the top of the panel. Blend more Arctic Color Fuse ink along the bottom of this piece, leaving the space below the clouds white.
Choose where you'd like your sentiment to go and stamp it onto the cloud layer in black. Attach the cloud layer to the sky with dimensional adhesive and then add the whole assembly to your card base.
We've done the top, now let's do the bottom! Cut some white card stock into two strips that are about 1 ¼" x 8 ½". Use our Slimline Grass die to cut the tops of the strips. Blend Basil Color Fuse ink onto one strip and Mist Color Fuse ink onto the other. Cut each strip with the largest Slimline Nested die to add stitching at the bottom and sides to match the layers. PRO TIP: This easy step adds a ton of finish to any project.
Attach the two strips of grass together, the lightest on top, with liquid glue applied just at the bottom and then repeat this glue application to add them both to the card. Carol applied the glue this way so she was able to tuck images into her grass to create dimension on her scene.
Now let's make the elements! Stamp the images from our new Bunnies Set with Copic friendly ink, color them with your Copics (or your favorite coloring medium!) and cut them out with our coordinating dies. Arrange them on your card and when you have a layout you like, adhere them with liquid glue. PRO TIP: Don't adhere anything you want to give some added dimension to, as Carol did here with the bunnies' ears. Cute touch!
Make some tiny butterflies with the Small Butterflies die. Carol cut hers from white card stock and colored them with her Copics to match her elements and used a fine point black pen to make their little bodies. She scattered them over her image, adhering with a drop of liquid glue in the center only. When they were completely dry, she folder up their little wings.
To finish this off, Carol added some sparkle with a clear glitter pen and Glossy Accents to the egg details. Carol says "I know it doesn't show in the photos (I tried!) but it does add a fun bit of bling!"
Here are all the goodies Carol used today: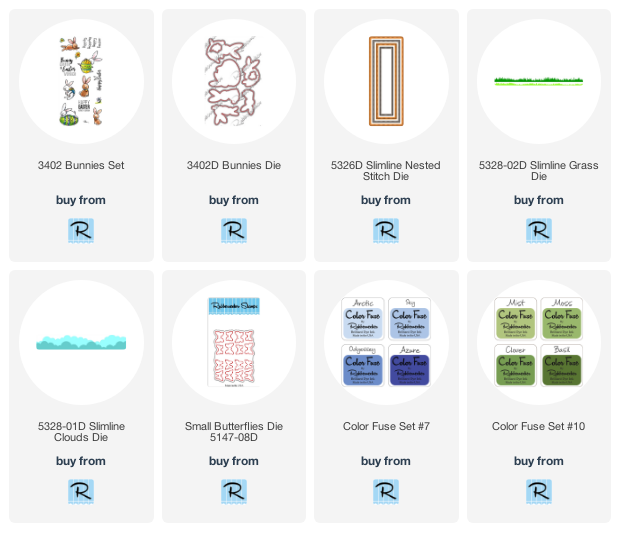 As you can see, this Easter slimline card is LOADED with cute details but overall is pretty easy to put together! We'd love to know if you try this out so be sure to share on our Facebook page so we can celebrate your creativity!