We just love the look of emboss resist and specifically designed our Color Fuse inks to be super blendable so crafters could get excellent results every time. Not all inks blend equally and that look can make or break a design. In today's gorgeous card from Jamie, she really showed that off with her cheerful, springy birthday card. She's given us all the steps so let's get set up to make a few of these ourselves!
First, stamp our Daisies background onto white card stock with Versamark and emboss with white embossing powder. PRO TIP: Using a detail powder on fine lines like these will give you better definition.
Now the FUN part! Blend your choice of Color Fuse inks – here Jamie used shades from Sets # 6 and #5 – over that pane, starting with the most intense shades of each color at the opposite ends and blending the lighter ones together in the center. As you blend your inks you will start to see your beautiful daisies appear. When you are all done blending, use a tissue to wipe any ink off the embossed daisies and watch them POP!
Cut that panel in half on the diagonal to make two triangular sections. We suggest while you have everything out, make two cards at the same time and have an extra in your stash! Add your triangular panel to a black card layer and here Jamie amped things up a little by adding a ultra narrow strip of silver washi tape over the join between the inked and black layers.
Go ahead and add that whole piece to a card base that coordinates with your color choices.
Make your greeting assembly by stamping your choice of greeting – here "Happy Birthday" from our It's Spring Time Set in black to echo the black layer. Die cut it out using the Nested Rectangle Small Stitched Die. Then cut a piece of card stock you like with your colors – here, purple – and cut it with the Nested Scallop w/ Half Holes and set aside.
On a scrap of white card stock, stamp a flower and leaves with images from our It's Spring Time set using inks from your chosen sets. Use our coordinating dies to cut them out and add them to the greeting panel using dimensional adhesive. Add the greeting to your colored frame and add to the card front with more foam tape.
Now if you want you can bling it up a little with a teeny tiny butterfly from our Small Butterflies Die cut from silver glitter paper and some sparkly rhinestones.
Here are the things you will want to pull out onto your craft table or add to your card to make this knockout of a card: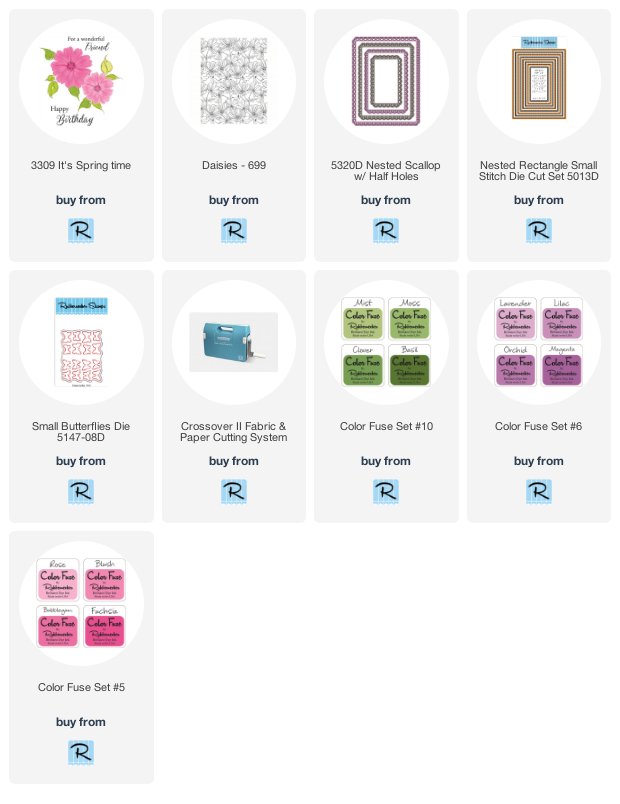 So pretty, right? And you can use ANY of our Color Fuse Ink shades on a project like this. We had techniques like this emboss resist look in mind when we created them and we would love to have you try this out!