Check out all the parts and pieces of this fall card made from die cuts and apply it to the elements you are loving this season!
It's so fun when our designers mix and match different elements from our store and create designs that are so unique but can also be so easily adapted. This is the case with today's fall card made from die cuts from Jamie. She's used a bunch of different things together and shows just how versatile all these shapes can be.
Let's dig into the making so we can start the creative popcorn popping and see how we'd borrow ideas from this project.
Jamie die cut a piece of decorative paper from our Harvest Time 6 x 6 Paper Pad with a die from our Nested Rectangle Stitch set. She layered this on top of a rust colored piece of card stock that she'd cut from a larger die in our Nested Deckle Rectangle Stitch set and added these layers to a white card base.
She then cut scraps of burlap paper and white card stock with out Holiday Tags die.
Using one of the ink splatter stamps from our Watercolor Splatter stamp set, Jamie added some detail to the white tag with Caramel Color Fuse Ink from Set #3. She also sponged a little Caramel Color Fuse to the edges to create some contrast. She adhered her inked white tag over her burlap tag, offsetting them a bit, and added these to her card front with some adhesive foam tape.
Now she used our Leaf Trio die to cut some scraps of green and tan card stock and sponged the edges with more Caramel ink and Basil Color Fuse Ink from Set #10. She adhered these leaves to the inked tag.

For her pretty sentiment, Jamie used our Believe Word With Shadow die set and cut the shadow portion from the same tan card stock as her leaf and the script portion from black card stock. After adding a little caramel ink to the shadow, she adhered the two together and then popped it up over her tags with more foam tape. A little green ribbon on her tag assembly and this card was ready to wow!
Here's what you will want to snap up from our store to make this card: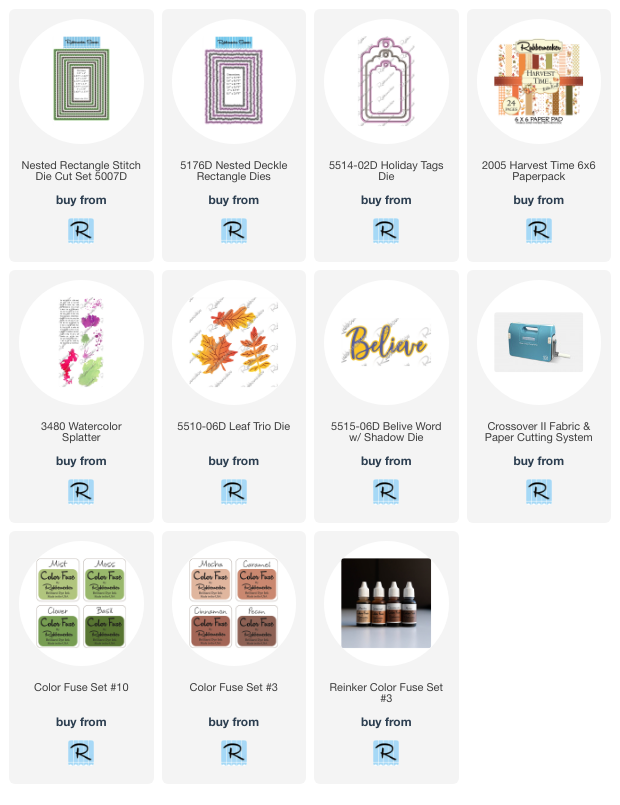 Now we ask – how would YOU adapt this fall card made from die cuts? Would you use other designs from the Harvest Time 6 X 6 Paper Pad? Different motifs on the tags? Imagine this same design but Christmas themed? Or even with hearts for Valentines Day? There are SO many options!