Add some golden glow to your card with this beautiful Fall mixed media background!
Before we get into all the delicious details about this card with that gorgeous Fall mixed media background, we just have to share what Colleen said inspired her. She says" Autumn is my favorite time of year and I love the traditional fall colors and pumpkins. I wanted my card to actually smell like fall (those of you who live in all season areas know what I mean by a fall smell in the air)."
We TOTALLY get it! Honestly, we really CAN almost smell that hint of crisp air, fragrant almost smoky leaves and feel that warm glow of a Fall sun.
Colleen has been sharing so many beautiful background techniques and we are so grateful that she's showing us how to achieve these only-looks-complicated elements using products we likely already have. In fact, Colleen has made a video for us showing her how-tos right before our eyes. Let's take a peek and then we can get her instructions step by step.
To start, take a card base sized piece of watercolor paper, mist with water and ink blend some Autumn Color Fuse Ink from Set #1 over the surface. PRO TIP: Don't worry about making it "perfect" – variations are a plus for this background.
To add a rich dimensional look, apply a few drops of Autumn Color Fuse (or swipe your cube if you haven't yet got your hands on the refills) onto a glass mat and spray with water. Remember, the finer the mist, the smaller the droplets. Place your inked panel ink side down onto the spritzed ink. Move the card panel around just a teeny bit here and there to add more dimension. Let dry thoroughly – use your heat tool if you are impatient!
Lay our Fall Leaf stencil over your inked panel – use Pixie spray to keep it in place or tape it down with some low-tack tape. Apply Juniper Color Fuse Ink from Set #11 lightly through the stencil here and there, lighter in some areas and heavier in others. Repeat this process with Pumpkin Color Fuse Ink from Set #3. Remove the stencil and splatter some Pumpkin over the surface for another layer of detail.
Cut a piece of white card stock with our Lattice Cover Die and apply VersaMark or other embossing ink over the lower section and heat emboss with gold (or any metallic you like) powder. Cut or tear this piece in half on the diagonal and adhere the embossed portion to the bottom of the inked panel.
Add some smears of your embossing ink around a few areas of the edge of the panel and heat emboss with the same powder to echo the metallic detail.
With alcohol friendly black ink, stamp the pumpkins, leaves and cornucopia from our Fall Pumpkins set onto card stock you've inked up in Fall shades – even splatter them for more texture as Colleen did! – and color them in with alcohol markers, then die cut them with the coordinating die.
Arrange your die cut elements over the lattice area on the card and adhere with varying thicknesses of dimensional adhesive.
Stamp your choice of sentiment onto a scrap of white card stock, trim closely and layer over a scrap of coordinating card stock – Colleen chose a mirror gold for more richness. Don't forget that last crucial step – admire your card!
Here are the things from our store that Colleen used today – grab your own stash now so when the weather turns autumnal, you'll be ready!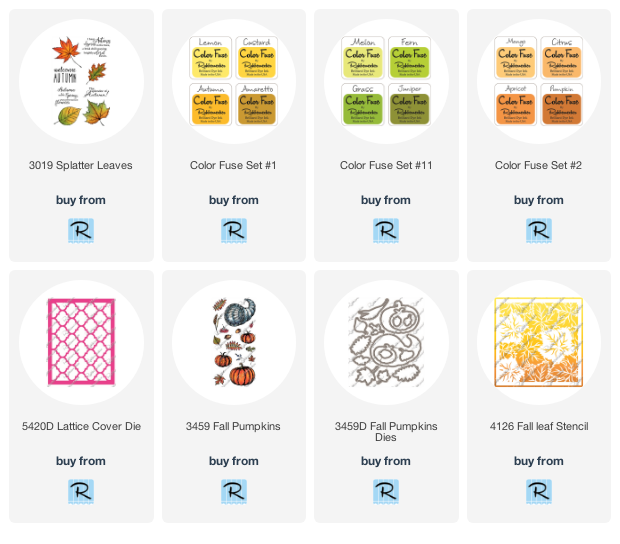 We hope this inspires you to try out your own version of a beautiful Fall mixed media background for any one of the designs we will share this month. Come back to see more Fall cards from Colleen and rest of our amazing Design Team!