See how a sassy greeting adds the giggles to this funny handmade birthday card idea.
We are just cracking up at how Jamie took her very pretty design for a project adorned with layered die cut flowers and instantly turning it into a super funny handmade birthday card idea by using a chuckle worthy sentiment! When you see a card like this, you really start to appreciate some of the "less traditional" sentiments we have and see how they can turn an ordinary greeting into something extra notable.

Let's dive right into the making because the card alone is a stunner so if you want to go more traditional, you can with just that simple sentiment swap.
Jamie started by using our Quilted Stitch Cover to cut a card front sized panel of white card stock. She then cut strips of different designs in our Modern Floral Paper Pad and adhered them over the center of the die cut.
She then cut that with the largest of the dies in our Nested Scallop with Half Holes set and adhered it to a purple card base.
For that special touch Jamie always adds, she used some narrow gold glitter washi tape and adhered it over the two seams where the patterned papers abutted each other.
Now Jamie used our Mixable Flower Stack Die set and cut two sets of the shapes from scraps of white card stock. Using pinks from Color Fuse Set #5, she colored one set of the flowers and then colored the second set with purples from Color Fuse Set #6. She adhered her stacks together and then added a yellow enamel dot to the center of both blossoms.

Using our Greenery #2 Die, Jamie cut some foliage from scraps of green card stock.
She added her two flowers with some dimensional adhesive for a little lift and then added her greenery around them, tucking them under for a pretty look.
For the touch that had us all rolling, Jamie stamped her sentiment from our Humor Phrases set onto a scrap of black card stock with Versamark and heat embossed it with white powder. She trimmed it down closely and then trimmed off two corners to make a tag shape and added it at an angle below her flower arrangement. A cute double bow of white and purple baker's twine and this card was ready to go!
Here are the goodies from the store that Jamie used today: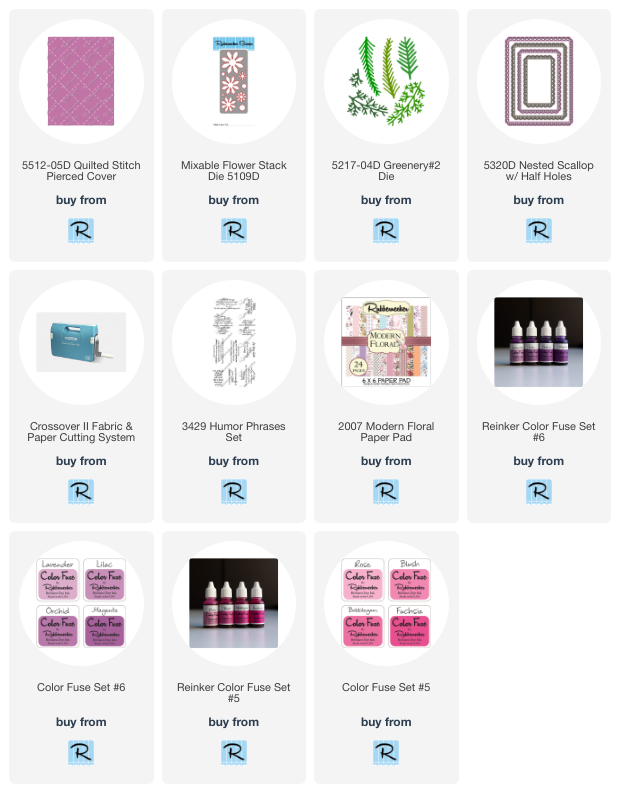 We really love the way Jamie created this funny handmade birthday card idea simply by swapping out a more traditional greeting for something with that little touch of silly. Browse your greetings or check out our collection of sentiment stamps and make note of the ones you can use to put a goofy grin on someone's face.