Get the steps to make not just one but two adorable gnome cards for friends to make their day!
These two gnome cards for friends are SO cute and they are so versatile that this is a design idea you are going to want to bookmark or pin on Pinterest to use over and over. Change up your color scheme and the sentiments and you've got cards for DAYS! Let's check out Allison's details so we can make these and get a bit grin on the face of someone special!

First, choose your Color Fuse Ink colors that you want to use on your backgrounds; Allie used Fern and Melon from Set #11, Mango and Apricot from Set #2, and Custard from set #1. PRO TIP: Allie colored a ~8″ X 8″ piece of card stock which she then cut twice with her mini slimline dies to get two cards in one swoop. Blend your inks over your white card stock to create that ombre look, adding a slightly wider strip of your center color to be able to have enough to show up on both die cuts.
Run this piece through your die cutting machine with our Plaid Pierced Cover die and then cut with the second largest die from our Mini Slimline Nested with Stitch set. PRO TIP: If your machine won't fit a square as big as your starting piece, you can cut the mini slimline panels first and then add that delicious piercing.

Now cut two pieces of white card stock first with the largest die from the same Nested Stitched set and then each again with our Mini Slimline Insert Hexagon Hole die. While you are die cutting, cut white card stock four times with our Sloped Fence #5 die. Also cut some coordinating card stock with the largest die from our Mini Slimline Tabbed Scallop Stitch die set to set off your ink blended backgrounds.

Adhere two lengths of fence to the back of each hexagon hole die cut, letting the fence fill about half or so of each opening. Then adhere these to each of your ink blended background pieces.
Wrap some baker's twine around the top of each of these panels and finish off with a little bow tied through a button. Adhere the die cut pieces to your colored scalloped layers with thin dimensional adhesive and adhere the whole assemblies to a mini slimline card base.


Using your choice of colors that you used on your backgrounds, ink blend two more scraps of white card stock and use the script portion of any of our Script With Shadow die sets to cut out colored words; cut the shadow portion from plain white card stock. Adhere these together with liquid glue.

Now stamp your favorite fellas from our new Autumn Gnomes set, color them in and then cut them out with our coordinating die. Add them to your cards using more dimensional adhesive.

Add your die cut greeting and then, if you wish, stamp some additional phrases onto scraps of white card stock, trim really close and pop onto your cards.
Can you even? Aren't these just SO adorable? Add a few little nuvo drops for some teeny details and you can really wow someone with these cute projects!


Here are the goodies you will want to have to make these gnome cards for friends and family: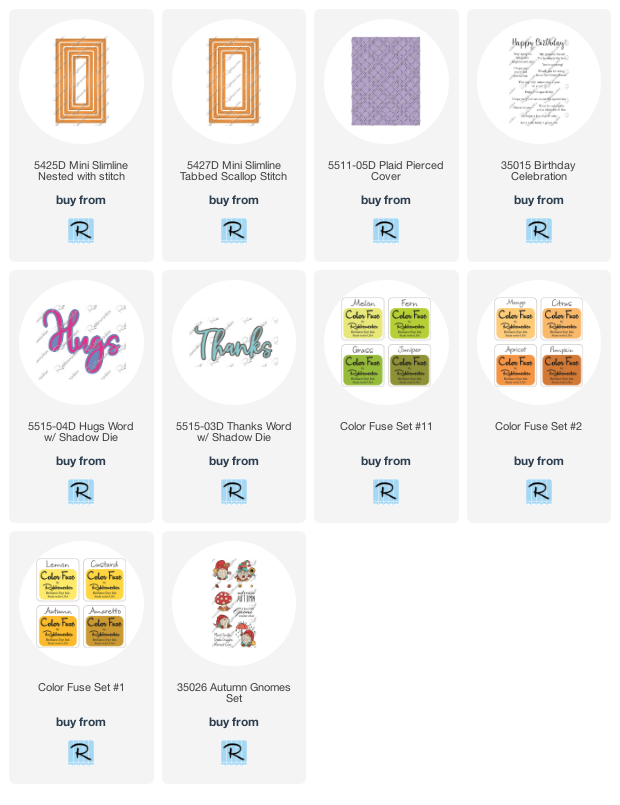 And remember, these are SUPER versatile cards! You can use masculine shades for cards for guys, holiday shades for any calendar event, soft colors, bold colors, monochromatic looks…… And then you can use any word die you have to make your main statement and create your own message with any of our phrase and greeting stamps. Your imagination is the only limit!
We hope you give making these gnome cards for friends a try – they are seriously so adorable, universally age appropriate and actually so much fun to make we can only imagine how much fun they are to receive!