Learn a fun trick to make a beautiful handmade card with blue jay birds.
We see lots of cardinals on cards and today Melinda has used a clever trick to show off her handmade card with blue jay birds. She says "We have a ton of blue jays where I live and they do look much like a cardinal. So I was inspired to make my cardinal into a jay!" We never thought about how much these colorful bird resemble each other and here, Melinda shows this off to perfection! Let's take a look at how she did it.
She started with a 4″ X 5 ¼" piece of white card stock. Melinda then stamped one of the designs from our Colorful Vines set with dark brown ink on opposite corners. PRO TIP: Bend your stamp slightly when putting it onto your mounting block to give it a little bend. Melinda ran this stamped piece through her die cutting machine with our Plaid Pierced Cover die to add some gorgeous texture. She then adhered this to her card base.
Now she made her blue jay birds. Using our Winter Cardinal die set, she cut out her birds from white card stock. PRO TIP: Use some removable tape to hold your blue jay birds in place as you color them. Melinda used the blue shades from Color Fuse Ink Set #8 to color her jays, blending the wings and tails slightly darker than the body and leaving the belly the lightest.
For the beautiful details, Melinda used a black marker to color her birds' mask behind their beak, a yellow marker for the feet and the beak and a medium gray for their eyes.
Melinda cut one of the shapes from our Branch Dies from black card stock and also stamped her sentiment – from our Hello Floral Bouquet set – onto a scrap of white and cut it out with one of the dies from our Small Frame Tags set.
She adhered her sentiment to the center of the lower portion of her card with dimensional adhesive and added one of her blue jays on the right with more foam tape.
She then added her die cut branch at the right edge of the card, trimming the branch even with the card front, adding her second blue jay bird perched on the branch.
Those beautiful blues really pop against the white and that texture adds some depth that makes you feel like you are part of the scene. Here's what you will want to have out on your craft table or add to your list to make this pretty card.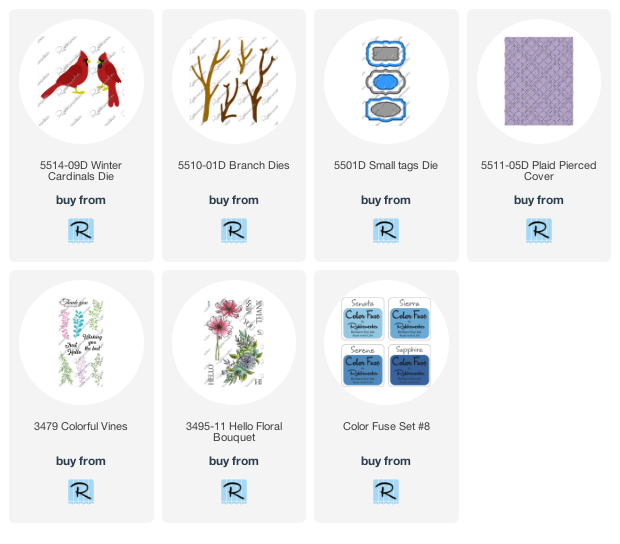 This handmade card with blue jay birds is so remarkably versatile! It's unisex, excellent for virtually any occasion and pretty easy and fun to make! This idea is one you will want to bookmark or Pin because you CAN use it over and over!