There are plenty of reasons to send handmade encouragement cards and this design is excellent for any one of those reasons!
Sending handmade encouragement cards to people who are going through a challenge or could use a little boost is such a lovely way to let them know you are supporting them. This idea is so sweet and still packs a punch with its command to "Be Brave!" Let's make one along with Melinda!

First, stamp our Brushed Flower down from the top of your card panel to mimic dangling flowering vines. Stamp your favorite foxy friend from our Be Brave set in the bottom third of the panel and use a soft pencil to draw a horizontal line under the fox to the edges of the panel to create your grass line.
Now add color! Color in your flowers and fox using your favorite medium (Melinda used her Copic markers). Add your grass by coloring in greens with your lightest at the bottom, shading toward a darker green right at the edge of the sky. Fill in the sky with your palest shades of light blue.
If you are using Copics, you can create that cloudy look by putting some blending fluid on a textured piece of cloth and dabbing it around the colored area.
Cut this panel with the largest of our Pierced Rectangle die set and add to your card base. Stamp your sentiment – and you have a LOT to choose from in this set! – with the smallest of our Nested Scallop die set and trim the sides to make your sign. Use brown inks from Color Fuse Set #3 and swipe them over this sign and a little scrap for the stake for a fun wood grain look.
Pop up your sign with some foam tape and your card is ready to send!
Here are the items you will want to have on hand to make these adorable cards: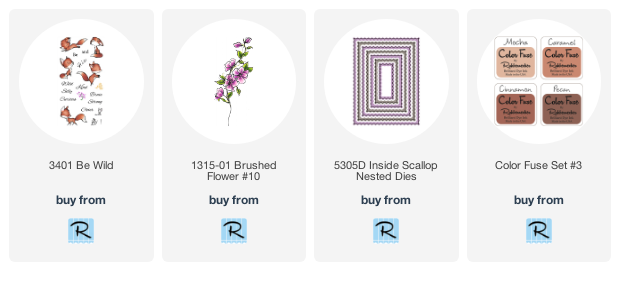 We are thinking that having a small stack of these super cute handmade encouragement cards around isn't the worst idea – we get to have a ton of fun making them and have them at the ready to show someone we truly care about them.