Today's handmade Fall cards are all about thanking our friends!
We've been sharing lots of handmade Fall cards in this month of expressing our thanks and we cannot forget to thank our friends for everything they do for us. Today Lisa is taking that sentiment and really upping the ante with this stunning example – just LOOK at all that detail! We love that Lisa has combined so many things that are fabulous on their own and put together – well, they are simply stunning. Let's dive in!
First, Lisa cut white card stock twice with our Organic Cover die and adhered them together with liquid glue to make a more substantial element to stand up to her gorgeous arrangement of pumpkins. Lisa trimmed a piece of gel press paper she'd created left over from another project to just a teeny bit smaller than her die cut assembly and adhered those together. She layered all of these over a piece of brown card stock cut to give her a 1/8″ border all around the die cut assembly.
Now Lisa stamped, die cut and colored with her Copic markers all of the images from our Fall Pumpkins set. Quick Note – yes, we know you love this set and we did just restock so go grab it!
Lisa used our Friend Script with Shadow die to cut the script portion from orange glitter paper and the shadow from brown card stock and adhered them together. While she had her die cutting machine out, Lisa cut some Flourishes using our Flourishes Die set from another piece of her gel printed paper. She also stamped her sentiment words from Kittie Says Phrases #1 and our Thanks set onto scraps of white card stock and trimmed them into tight strips.
Now, to start building the decoration! Lisa cut the cornucopia along the inside of the right outer edge so that she could tuck some of her die cut elements into it to give it the look of being overflowing with goodies. She adhered these into place using her adhesive tape and foam squares, tucking and adding elements as she went until she had her bountiful Fall arrangement just so, saving a few smaller pieces.
She added her die cut word, decorating it with a little clutch of those smaller die cut elements and added the words below to complete her heartfelt message.
Here are the items – including the once-again-restocked Fall Pumpkins stamps – that you will want to have to make one or a stack of these fabulous cards: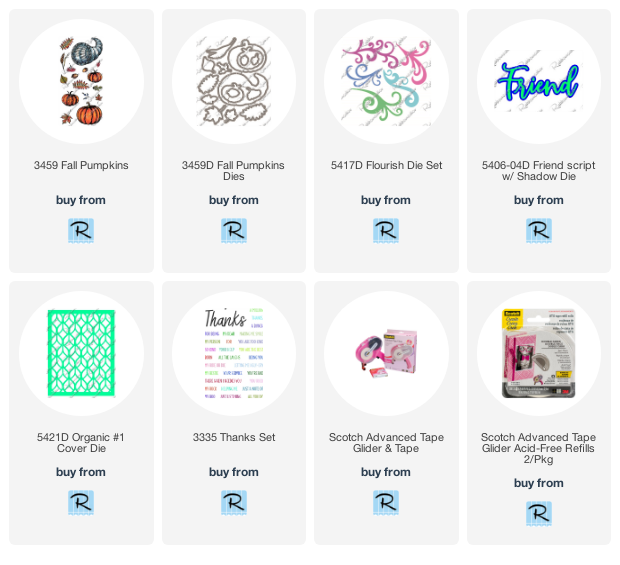 These handmade Fall cards fit every bill – thanks, check. Friends, check. GORGEOUS, check. Fun to make, DOUBLE check! Make some of these and make someone's day!