Check out these easy handmade shaker cards with a sense of humor!
Today's handmade shaker cards will crack ANYONE up but if you know a fellow craft who could use a laugh or two, THIS card is perfect! Let's take a look at how Allison made this for us.
Allie says she mentally connected the look on this turkey's face with the funny sentiment and knew she had to put them together. So she started by stamping our Turkey onto some white card stock, colored him in with some brighter shades of fall colors and then cut him out with our coordinating die.
While she had her die cutting machine out, she also cut a card front panel with our Honeycomb die, placing it roughly in the center to leave room for her foam tape "corral" for her shaker filler.
She then adhered a piece of clear acetate with adhesive tape to the back of this die cut panel. Then, to create the surround for her shaker filler, Allie laid down foam tape all the way around the die cut area, making sure the edges of the tape butted up against one another so none of her fine sprinkles could escape. (The image below shows this partially done.)
She then added pinches of her glitter and sequins inside the foam taped-off area and offers this genius PRO TIP. To make sure your filler doesn't stray and to get your shaker element perfectly sited on your card, add a scrap of white card stock OVER the shaker area and then adhere that whole thing to your card front. Wish we'd thought of that! No more nail biting, finger crossing, hoping the card base goes on straight! Thanks, Allie!
To finish off this giggle-worthy masterpiece, Allie added her turkey and her sentiment – which she simply stamped and trimmed – with more foam tape.
Here's what you will want to add to your shopping cart now to make these for your crafty friends: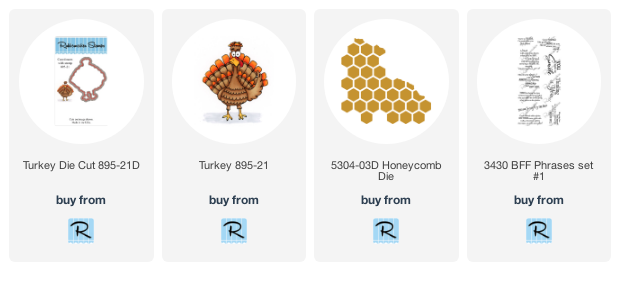 These handmade shaker cards with a built in grin are perfect for any pick-you-up occasion, during the Fall and year-round!