These beautiful handmade sunflower card ideas are completely versatile and just so pretty!
Our designer today is Lisa and she's shared lots of gorgeous projects using gel prints and even shared some tips on how to make them. Today's two handmade sunflower card ideas she's showing off also use some of her gel prints but have no fear! If you aren't into that you can substitute patterned paper or card stock, follow along and have the same brilliant effects. Shall we get started?
Lisa took two gel print backgrounds she'd created using our Geometric and Cheesecloth stencils and dark blue acrylic paint. If you are swapping these out for paper, choosing something with that navy color will help to beautifully set off the bold yellows and golds used to make the sunflowers.
Using the solid layer of the sunflower stamps, roll some dark yellow/gold acrylic paint over the stamp and press it to your panel. Stamp your images randomly and let some of the images hang off the edges of the panels. When they are completely dry, cut them with the largest die from our Nested Rectangle Small Stitch set.
Layer your panel(s) onto a piece of dark navy card stock cut to add a ⅛" border around and then onto a bright yellow card base.
For one card, cut a frame using our Inside Scallop Frame from navy card stock and for the other cut a piece of white card stock with our Rectangle Combo OPC die. Adhered these with dimensional adhesive to the cards.
Now stamp the gorgeous detailed sunflowers. Lisa says "There are easy instructions included that help indicate layers to stamp with three colors. I added a fourth color… a light brown that I sponged onto the center of the first solid sunflower image for even more contrast and depth."
Fussy cut this out and then cut it in half. Lisa says "This is a great way to get two images from one for two coordinating cards!"
Using our Nested Circle Die set, cut a circle from white card stock that fits under the sunflower; cut it in half. Adhered one half blossom to this circle and adhere to the card with the blue frame, tucking the cut edge under the frame. Adhere the other sunflower to the card with the white frame, also tucked under the edge.
Next, using our Happy Script with Shadow and You Script with Shadow dies, cut shapes from white and navy card stock as you choose and adhere them together with liquid glue. Using small pieces of dimensional adhesive, adhered your die cut words to the card front allowing them to overlap the blossoms.
For the Happy card, stamp your sentiment onto a scrap of white card stock and add to the card. Lisa chose one from our Yoga Cats set, cut it into strips and omitted "happy" to allow the die cut to fill in. For the You card, choose a sentiment and cut it out with one of the dies from our Small Tags set and tuck it under the word die cut.
These two handmade sunflower card ideas have come to life!
Here are all the fun things Lisa used from our store today: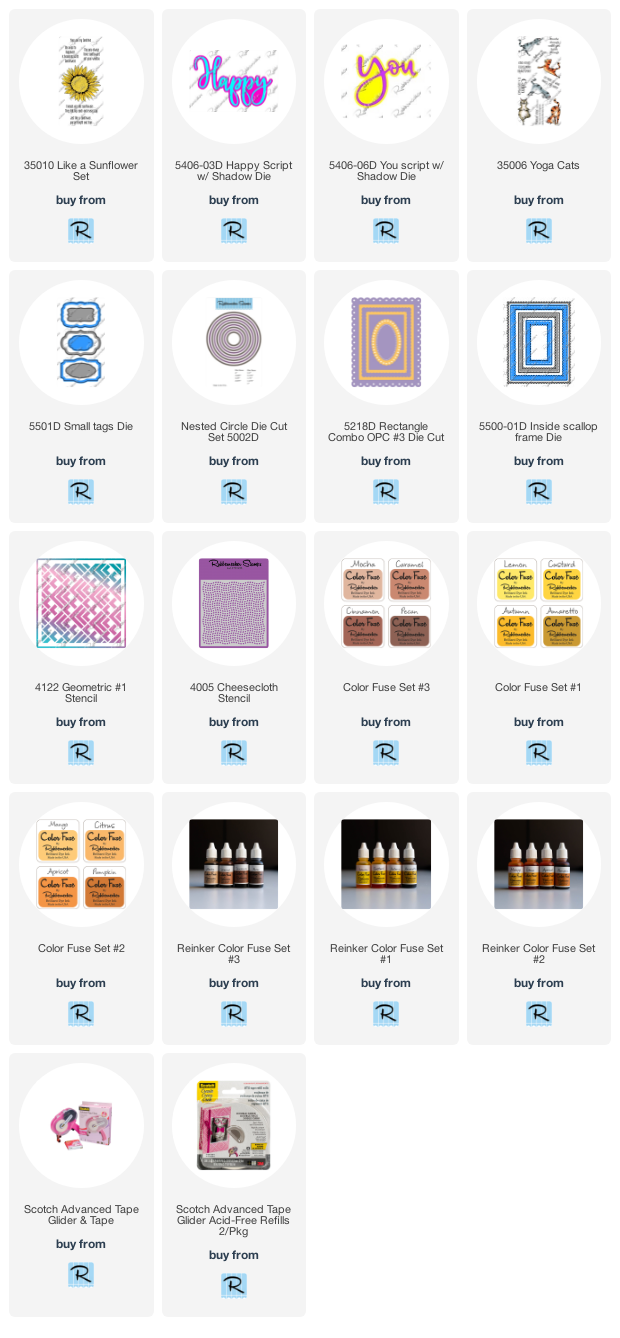 Don't you love these handmade sunflower card ideas? They are similar enough that making two cards at once is easy and fast but different enough tat you get a change to give your creativity a nice stretch!