Make a stack of these handmade tags to use on gifts or cards for some instant cuteness!
We love the idea of making bunches of these and having them at the ready. As Jamie says, they are fun to make and having these handmade tags to use on gifts or cards on hand make putting something together so fast. Just tie one onto any gift and you've instantly made it special. Or pop one on a card base and you have an instant card.
Our theme this month is florals – and come back tomorrow to have your MIND BLOWN by what we have that's new for you! Jamie had made this for us during our cute critters them last month and there was NO WAY we couldn't share this with you – it's so sweet and so versatile. Want to make one? Let's do it!
Start by stamping this precious pupper from our Yoga Dogs set with black ink and heat emboss him (her?) with clear powder. Sponge your doggo up with some Mocha Color Fuse Ink from Set #3 and cut them out with our coordinating Yoga Dogs die set.
Next, stamp a piece of white card stock with our Crackled Mud Background stamp with Versamark in and heat emboss that, too, with clear powder. Using Distress Oxide inks, blend some pink and yellow over that beautiful texture. PRO TIP: Jamie says "I used these inks instead of the beautiful Color Fuse Inks because the Oxides can be wiped off of the embossed areas where the Color Fuse can't." Good to know!
Die cut this with one of the dies from our Nested Tag Stitch set and set it aside with your furry friend.
Using our Slimline Grass die, cut two scraps of white card stock and sponge the tops with shades of green Color Fuse Ink from Set #10 and adhered them together layered for additional texture. Run that little double strip through your die cutting machine with the same tag die to give the grass edges the same detail as the tag. PRO TIP: If you are planning on making several of these adorable tags, do the whole strips of slimline grass and cut them up all at once. Then you have them handy for any similarly styled handmade tag.
Add your little grassy detail the bottom of your inked up tag. Stamp your sentiment onto the tag with black ink – Jamie used VersaFine. NOTE: Since you are stamping onto that textured surface, it is likely that you won't get a 100% even impression. If this will bother you, try doing this step with a stamp positioner and see if stamping more than once helps.
For extra details, use our Clouds die to cut some white card stock scraps and then blend just a touch of Sonata Color Fuse Ink from Set #8 over the bottoms.
Search your leftover die cut stash for elements you want to add, like Jamie did with the little hearts that are from our Slimline OPC Hearts die. As Jamie says, "You know we crafters can't throw anything away, we might be able to use it haha."
Add your canine character on the grass with some dimensional adhesive. Add your little clouds. Add your tiny details. Add a little length of coordinating trim to the top. Jamie simply threaded a piece of ribbon through the tag hole and then tied it off with some black and white baker's twine for some super easy added detail.
Can you EVEN? Isn't this just so sweet?
Here's what you will want to get your hands on to make one or a stack of these handmade tags to use on gifts or cards: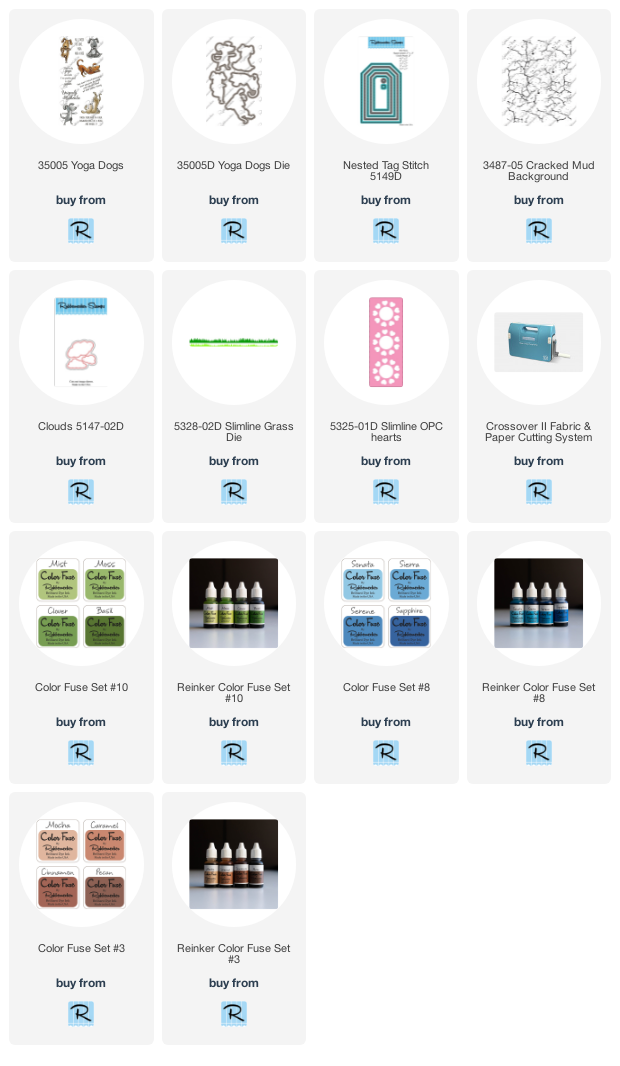 Now, as we said earlier, we have a new release coming tomorrow and you DO NOT want to miss it! April showers bring May flowers and apparently, it's been pouring! And we are adding a brand new product variation to our lineup and let's just say it's a total game changer for a fun way to add gorgeous color and dimension to your floral creations.
So, see you tomorrow?