Come see how to make this adorable hippo birthday card that will make anyone's day!
Today we are excited to share with you the debut project from one of our new designers, Dawn. Dawn has created this absolutely adorable hippo birthday card and is sharing all her fabulous tips and tricks for making. Dawn says "When I saw the Hippo set I immediately thought of Spring and how happy they are for it to begin. What better way to celebrate the birth of Spring than a birthday card?" We SO agree! Let's dive right into the making!
Dawn used her Misti to stamp her images from our Hippo set – Dawn used Memento black ink on Copic S-Press paper, her pick for all her Copic coloring.
She colored them in with the following Copic Sketch markers:
Hippos W7 W5 W3 W1 W00
Cheeks R30
Heart R22
Dawn notes that she ended up not using the balloon gift but the Copic combinations are as follows:
Blue B37 B24 B23
Yellow Y08 Y06 Y02 Y11
Green YG17 YG13 YG11
Red R89 R39 R35
Dawn cut a piece of card stock at 4″ x 8 ½" and then placed our Cloud Stencil down and secure with magnets. For easier stenciling Dawn uses Ranger's Make Art Station to hold down her stencil so it doesn't move when she is inking.

She used her blending brush and applied Sierra Color Fuse from Set #8 and blended it over the panel, turning the stencil on a different side for each line of clouds. PRO TIP: Before you blend your ink on your card stock do a little test rub on a scrap piece of card stock so any excess ink won't blob on your paper.
Cut this panel with our Slimline OPC Wavy Die. Dawn secured the sides of her die with some small pieces of washi tape to keep it from shifting as it rolled through her machine.
Then Dawn used our coordinating Hippo die set to cut out her little elements.
Next Dawn used our Small Butterflies die to cut some scraps of different colors of card stock, our Grass #2 die in three different shades of green and Tiny Flower Buds in different colors as well. She played around with the placement of all her little elements and details until she loved what she saw.
Here's a smart PRO TIP from Dawn: Take a picture of your placement so that when you have to move them to glue on will remember where they go. Now why didn't we think of that?

For the little grass groupings, place a dot of glue on the top bottom of each piece and adhere onto the back of your Wavy die overlapping them as you go.
When Dawn finished arranging and adhering all the background details, she laid her frame portion of the die cut down and oriented her inserts. She adhered these to a yellow panel cut to a whisker larger than the die cut and then adhered her frame over them, allowing the cute little details to stand out against the clouds. She then adhered the yellow panel to a navy panel, also cut just slightly larger than the yellow and then adhered all of that onto her slimline card base. Dawn says "Double matting will give you a finished look. Don't forget to double mat your sentiment as well!"
Dawn finished by adhering the rest of her die cut elements to her card, using foam tape to pop some of them up for a little dimension.
Here's a peek at the top half of this super cute card:
And the bottom half – just LOOK at all those details!
Can you EVEN with this hippo birthday card? We cannot! Here are the items from the store that Dawn used today: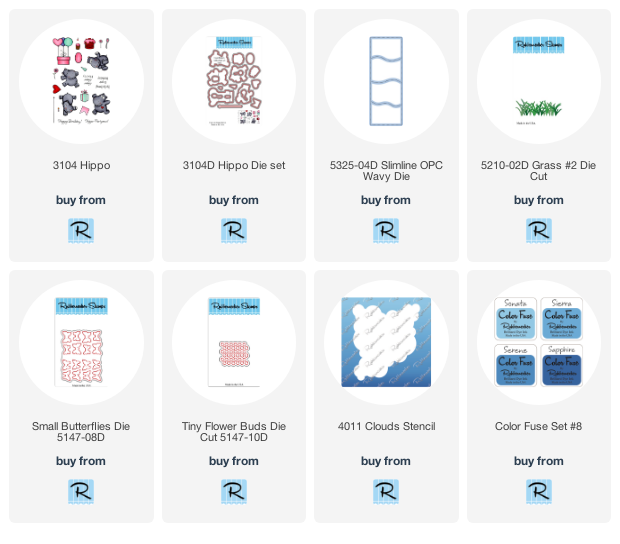 We can't think of anyone who wouldn't LOVE to receive this hippo birthday card in recognition of their special day! And no matter how old someone may or may not be, these happy little creatures are sure to bring a huge grin to their face!