If you are looking for ideas for holiday cards for batch making this year, you want to check this out!
Are you like every card maker on the planet and say to yourself "This year I am getting my cards done EARLY!"? And then you are in frantic mode every December trying to get them done? Today we have Ricky's delightful design for the cutest – and quick, easy and cost effective! – holiday cards for batch making.
Ricky is sharing all his details here and even made us a great start-to-finish video so you can actually see with your own two eyeballs how easy this card is to make. Let's walk through the steps first.
Start by taking a piece of card stock cut to 4 1/2″ X 7″ and fold in half – yes, this is a slightly smaller card but that's OK! You can make a huge batch of these some evening in front of your latest must-see-TV fave.
Now choose a piece of patterned paper from our new Snowflake Fun Slimline Paper Pad and cut it to 4 1/2″ X 3 1/2″. If you are indeed batch making this design, this layout will look great with ALL of the patterns AND you will have lots leftover for other projects.
Now stamp any one of (or all!_ the bears and one wreath for each card with the correct ink for what medium you want to use to color them in. Ricky used his Copics and just wait until you see the video – he filmed it such that you can follow along and see the images come to life.
Check out that shading on the bear – when you see how it was done you will be so excited to try it out.
Again, all this coloring can be done over a stretch of time – just stamp everything out (with a couple extras just in case), set up a coloring station somewhere comfy and do a few as you have time.
Now choose two circle dies from your stash that will let you cut a circular frame out of your wreath. Exact sizing is NOT important here – it will look great with skinny, wide or no borders around the greenery. No one has to know!
PRO TIP: To keep your dies aligned, after you cut one set, keep everything intact and just add more low tack tape over the dies to keep them in place together. Then just put them down on the next wreath to be cut and repeat.
Ricky used a die cut stack to create his elevation on his card because he wanted something with a little lower profile. To do this, cut three additional frames from white card stock scraps and adhere them together with liquid glue with the stamped wreath on top.
You can see how this creates a thicker element that offers just a hint of dimension.
If you want to save time, you can use some thin foam tape adhesive to lift your wreath and skip the additional die cuts.
While you are in die cutting mode, cut out all your bears, too. This is another great thing to do while you are binge watching……
Now make all your sentiments. Grab all your scraps of the color paper you want to use – Ricky used black to echo the outline colors – and give them a swipe with your anti-static tool. Stamp your sentiment with VersaMark or other embossing ink and heat emboss with white powder. If you have a helper, this is a great "assembly line" task.
When you've heat embossed all your pieces, trim them down into neat squares. Remember, they don't all have to be identical – people are getting ONE card, right? Add a piece of foam tape adhesive to the backs of all your squares.
Assembly time! Adhere your wreath with liquid glue (for the wiggle time) or peel off the backing of the foam adhesive pieces if you used it and adhere to the center of the top two thirds of your patterned paper. Adhere your bear in the center with liquid glue. Peel off the backing of the foam adhesive on your greeting and pop it on.
Now all you have to do is add these to your card bases and your nice big batch of handmade holiday cards are ready for when YOU are ready to send them out!
Want to see the action for yourself? Check out this fantastic video:
So you saw the "easy" and overall, each card is pretty "quick". What about the "cost effective"? Well, aside of the scraps for die cutting and the card bases, you can make 24 of these cards for just $2.08 each. But wait – there's more! Make 48 of them and price per card drops to $1.25 and make 72 of them and they are $0.97 each to make! The more you make, the less they cost per card because you already have the stamps and the dies, which you can use for years. And remember, you will have lots of leftover paper from the Snowflake Fun Slimline Paper Pad.

Here's what you will want from the store to make this card: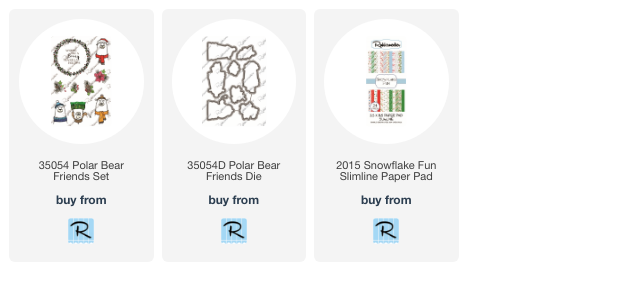 We will have lots more ideas for holiday cards for batch making and we think this one was the perfect design to start us off!