If you've been looking to change things up a little, today we've got a super easy, fun and beautiful way for how to do watercolor looks just with stamps and ink! Carol is using our Winter Wonderland clear stamps to create a beautiful winter Thank You card and we can see this dazzling yet simple technique using any or all of our specially designed layered stamps. Let's take a closer look at how Carol made this card.
First, Carol highly recommends using a stamping positioner, like the the Misti, and watercolor paper to get the full effect of this technique. The Misti is so you can restamp your images with perfect alignment until you have the color saturation you want and the watercolor paper to both absorb and distribute the ink in the best way to recreate that hand painted look.
The basic way to execute this technique is to start with the lightest color first and restamping with that shade until you've got a look YOU like – no rules! You will ink your stamp, spritz with water until you see some beading and stamp and PRESS for a couple of seconds to give the water a change to be absorbed by that watercolor paper. This works best when you allow the images to dry in between applications and you can speed that up with a few blasts from your heat tool.
Work your way through your lighter shades with the different stamps, holding the darkest shade for the end. When you get to that final detail stamp and your darkest color, stamp without adding water for that crisp contrast.
Of course Carol, like all our designers, has that artistic eye and added some striking sparkle by swiping her sparkle pen over sections of the stamp and stamping over the branches.
Carol repeated this technique with the pine cones and then cut them out with the coordinating dies. Then she stamped her sentiment with Versamark onto watercolor paper and heat embossed it with black powder.
Now that she had all her elements created, she built her card. She cut her wood patterned paper with the largest Rectangle Small Stitch die and added it to her card base. She cut the branches panel with the second largest Nested Square Stitched Die and added it to the wood paper. She used the same size Nested Square Stitched Die to cut her sentiment out, cutting twice with the die lined up the second time to form that smaller rectangle.
She added her pine cones with foam tape to her branches panel and then adhered the whole thing to the card front, adhering the sentiment lined up so perfectly. And then to echo the sparkle she so cleverly added to her images, Carol added a few green and brown gems for even more light reflection.
Isn't this card just SO lovely? And doesn't it truly look like it was hand painted with watercolors? We are so impressed! Here are the things you will want to pull out or add to your shopping list to make this card: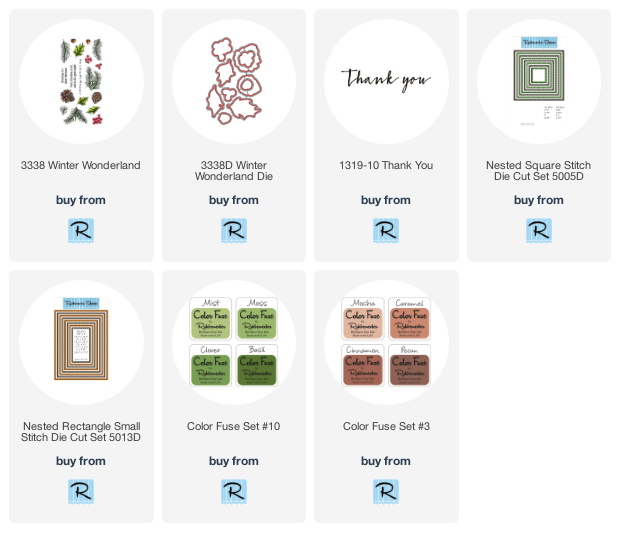 Now that you have the details on how to do watercolor looks with stamps are you itching to get to your craft table? Us too!