Oh boy are we lucky today because we have not one but two ways to learn how to make a Father's Day card that will WOW anyone who sees them.
When Preeti sent these over she called them "clean and simple" and while they are in terms of design, each of them features a super fun little secret that gives them both that extra little oomph that can be hard to add to a masculine card. It's not like you can stick a bow or some glitter on it in most cases!
Read through to the end for a little bonus!
First up, this adorable but manly card featuring, what else?, TOOLS!
You can't see it but there is an Action Wobble behind the tool box – Preeti says that when you wiggle the card, it looks like the tools could be spilling out of the tool box. And WHO hasn't experience THAT?
Preeti chose just a couple of colors from the patterned paper she used keeping the look clean and simple but with loads of visual interest thanks to her arrangement of the "spilled" tools and her artful coloring of the tool box. The speech bubble for the sentiment was hand drawn to look whimsical and funky using a pencil and fussy cut with scissors. As handy as die cuts are, sometimes adding that randomness of hand cutting can be just the thing to echo movement on a card.
Preeti's second card is a little more complex: it is an interactive shutter card. Here's a peek at the outside with the belly band she used to help keep it closed to hold back the surprise.
When you remove the belly band and open the gatefold card it reveals a hidden element when the shutter opens to reveal the tools. Preeti stamped and embossed her sentiment and then used one part on the front and one part on the inside. We LOVE this idea and have been combing through our stamps to see what others are suited to this great two-in-one idea.
The image above shows the inside of the gate fold card and how the elements are revealed inside the shutter. It makes it easier to see and understand how this card works when you watch the video.
WAIT!!! There's a video???Yes! Preeti has made a video for us showing how she made not one but BOTH of these awesome cards! We will post it tomorrow so be sure to come back and check it out!
Here are the coloring tools Preeti used on this project and the rest of the supplies are below.
Copic and Prismacolor Pencils:
BV23, BV20, R45 R24 R22

French Grey 90% (PC 1076)

Dark Purple (PC 931)

Carmine Red (PC 926)

Slate Grey (PC 926)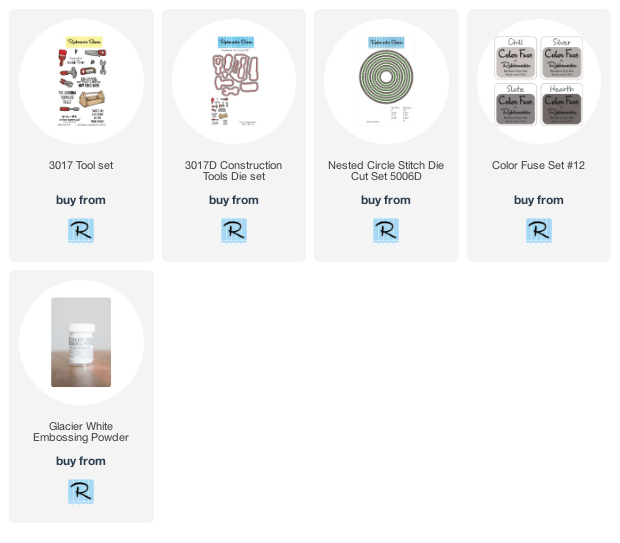 Don't forget to add your art work to the Rubbernecker Facebook Fan page. Also make sure to check out the Instagram page for Rubbernecker for more ideas and techniques using all the amazing products from Rubbernecker. Don't forget to come back tomorrow when we will have the video on how to make a Father's Day card that will be a total WOW!!!