This quick and easy method for how to make a wreath with die cut sprigs will have you looking for excuses to use them!
One of the most iconic elements for holiday cards are a traditional evergreen wreath. There is nothing wrong with using a simple wreath die cut like this one but when you learn how to make a wreath with die cut sprigs in this post, you will probably start looking at ALL your foliage dies differently! This method is super easy, doesn't require a lot of precision and will come out gorgeous every time. Let's see how Allison did it!
Allie started by taking a couple of different shades of green card stock and cut them out several times each with our Twigs die. PRO TIP: Mix up your colors, add in some glitter, have fun with these because as you build your wreath, they will all mix together and each will add their own accent to your wreath.
Allie then cut the rest of her components. She cut two circles from white card stock with our Nested Circle Stitch die set, she cut a circle frame from kraft card stock using the same size circle and the next size down, cut her scalloped element from kraft card stock with the middle die from our Nested Circle Scallop With Holes die set and last, a piece of patterned card stock from our Festive Farmhouse Paper Pad with the largest die from our Nested Scallop With Holes die set. Save the frame for a future project!
Now taking one of her white circles, Allie stamped her sentiment in the center – for this card, she chose one from our In Case You Get Cold set and set it aside until she'd created her wreath.
Taking the second circle, Allie started adhered her die cut sprigs around the circle, varying their angles a bit and building dimension as she worked her way around the circle. When she'd filled in around the circle in one layer, she repeated this process, building a little depth and texture.
When she loved what she saw, she added some dimensional adhesive to the back of her stamped circle and adhered it over her sprigs, sandwiching them between the circles.
She adhered her kraft colored frame to the front of the stamped circle and then adhered her whole wreath assembly to her kraft doily. Allie adhered her die cut patterned panel to her card base and popped her wreath in the center using more dimensional adhesive. She added a little button and some festive baker's twine tied in a bow and as a last touch, added a few little sequins to her sprig wreath for a little sparkle.
SO adorable! And so, so easy! There are so many ways you can adapt this way of using die cut sprigs, twigs and foliage to form a wreath – and NOT just for the holidays! Picture ivy and fall leaves, leafy sprigs with little die cut paper flowers, even just branches with tiny birds! SO many creative options!
Here's what Allie used to make her card today: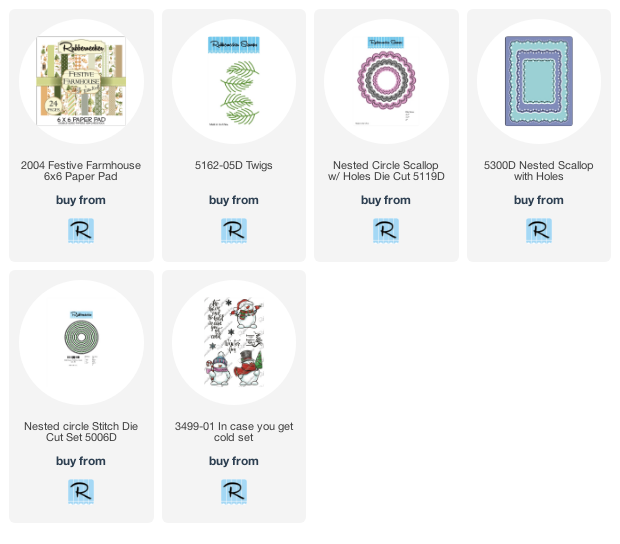 Now you've got this fun way for how to make a wreath with die cut sprigs – what are YOU thinking? How will you use this idea? We love seeing your projects so if you use this idea, please drop a comment or even share your creation on our Facebook page so we can share celebrating YOUR creativity!