Learn how to make a stamp with die cuts from any design you like – it's so easy and fun and really stretches your craft stash!
Today we get to see Melinda make a stamp with die cuts to make a pretty custom look. She also made her background with her gel plate and we love the look! We've seen some really fun things done with a gel plate and since they are relatively inexpensive, it might be time to consider adding one if these tips are tricks are interesting to you.

OK – let's get to the making and see how Melinda worked her magic!
First, Melinda says if you want to skip right to making the card and don't even want to bother with making a custom stamp using die cut elements, she suggests you grab one of the mixed media designs from either our Festival of Colors or Frosty Adventures 6 X 6 Paper Pads, designed by Melinda herself! And she's right – her designs are absolutely perfect for this pretty card design!

To create your own stamp design, first you will want to choose die cuts that reflect the theme you are going for on your card. For today's card, Melinda chose snowflakes so she cut our Snowflake Dies set twice with fun foam. PRO TIP: You want to use a medium thick enough to be well raised up off your surface to ensure that you get nice, defined lines. Too thin and your medium will meld too closely to the surface with your ink or paint and you might get a sloppy look.
Adhere your fun foam die cut snowflakes to a piece of firm chipboard cut to card front size.
Take your gel prints or create a panel by blending some of your favorite ink colors onto card stock or just add some simple watercolor or acrylic paint to your background. As Melinda says "Play around until you see something you like – however you get it doesn't matter!"
Ink up your handmade stamp with the ink color you feel goes with your colored background – Melinda used Magenta Color Fuse Ink from Set #6 and stamp onto the colored panel you created.
Next ink up our French Script stamp with a complementary color over the snowflake piece. ink up the script stamp randomly and just stamp a bit of it here and there for added interest. "Perfection" is no only unnecessary but the random look makes things better in this case!
Now take an card sized panel and stamp it with our Splatter Background Stamp in with Sky Color Fuse Ink Color Fuse Set #7.
Tear the opposite corners of your custom stamped panel and adhere it to your splatter panel. PRO TIP: You can get two cards out of one by adhering your torn corners to another splatter panel. Yes the card will look different but the elements are beautiful so however you mix them will be pretty!
Now die cut the whole thing with the largest die from our Nested Rectangle With Pierce die set.
Now for the die cut embellishments, you will want to take our Holly #2 die and cut the leaves and berries from a piece of white card stock. Leave the die cuts in place when coloring – add a little low tack tape to the back if it makes keeping them in place makes them easier. Melinda used Clover and Mist Color Fuse Ink from Set #10, using a blending brush to shade the colors to add some depth.
Repeat the coloring the berries with Fuchsia Color Fuse Ink from Set #5.
PRO TIP: Melinda blends each element one at a time so she doesn't accidentally mix the colors when she is inking. That's SMART! If you want, add some extra details – you can see these in the photos below – with your markers as Melinda did.
Now stamp your sentiment – Melinda's is from our Wintery Friends set – in black ink on a scrap of white card stock and cut it out with a die from our Nested Circle Scallop With Holes die set.

Pop your sentiment onto your card with some foam tape adhesive and tuck your leaves around it with more dimensional adhesive and then add your berries onto your sentiment piece. Add the whole thing to a card base and you're done!
We just love all the texture and details and the pops of color against the white – it's a perfect all occasion winter card!

Here's what you will want to have out on your craft table to make this card as Melinda did: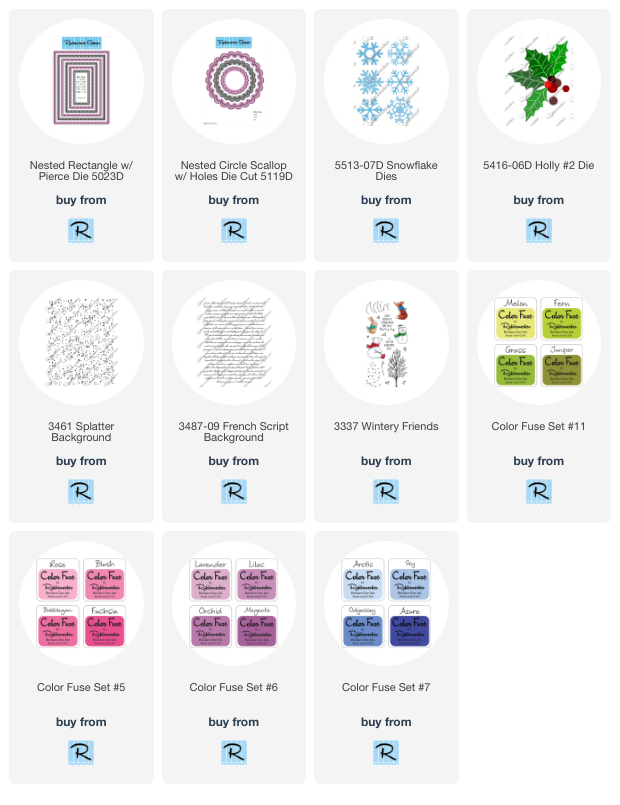 Now that you have some tips on how to make a stamp with die cuts, is your brain POPPING with ideas? From custom backgrounds to playful strips even to little scenes, this quick and easy technique lets you take all your dies further and lets you stamp exactly what you envision!