We are so excited to share some excellent masking technique tip shared today by Carol. She uses the very handy masking technique in a couple different ways on this beautiful one panel card and we are just loving all the depth and perspective she's been able to create. Let's dive in!
Carol started with cutting some white card stock with the largest Nested Rectangle Scallop die. She stamped her polar bear with Copic safe ink onto this panel and again on some masking paper. PRO TIP: Post-it notes also make GREAT masks. PRO TIP 2: Save your masks in your stamp containers for re-use! Fussy cut the masking paper bear very close to the outside of the stamped lines.
Place the bear mask over the stamped image, lining up exactly and press to make sure it's not going to wiggle.
For her snowy hills, Carol free hand drew a simple shape onto more masking paper and then divided that piece into three more gentle slopes (see images below). She placed all three pieces onto the card, over the bear, as if they are still one piece.
Then using an ink blending brush, Carol gently buffed Sky from Color Fuse Set #7 over the panel, getting lighter towards the middle of the card. She then inked Odyssey around the edges.
Next, she removed the mask for the very top portion of the hill and VERY lightly inked some Sky over the edge of the next hill to create a soft shadow. PRO TIP: start very light and add more as you need to – you can always add more but you can't remove ink once it's been buffed on! Repeat for the next edge of the hill. (The photo below is a good visual of the process.) Leave the mask for the bear in place.


Next Carol stamped the tree from the Wintery Friend set in Pecan from Color Fuse Set # 3. Carol suggest using a MISTI or other stamp positioning tool for this as you will see from the next step.
Carol gave her panel a swipe with her anti-static tool over the tree and r-stamped it with Versamark clear ink to stamp right over it in exactly the same spot. She then embossed it with clear embossing powder to add just a bit of dimension and interest.
For her sentiment, which Carol says she loves because it's so perfect for the whole rest of the winter, she used her anti-static tool again to stamp with Versamark and heat embossed with black to echo the dimension from the tree.
Carol says "Now is the magic time! I love removing the final mask from the bear to begin my coloring!" Can you believe how crisp and fabulously detailed all those shadows are?
To add shading to her pure white bear, Carol used a few shades of grey Copic markers. Carol says to be sure to color in a shadow where the bear is sitting to "ground" him/her.
To finish up, Carol used two different sizes of white gel pens (Jelly Roll sizes 8 and 10) to add white dots for some snow and a little pattern to the bear's scarf. I also added white dots to the bear's scarf.
Here are the items Carol used for this fabulous one panel card: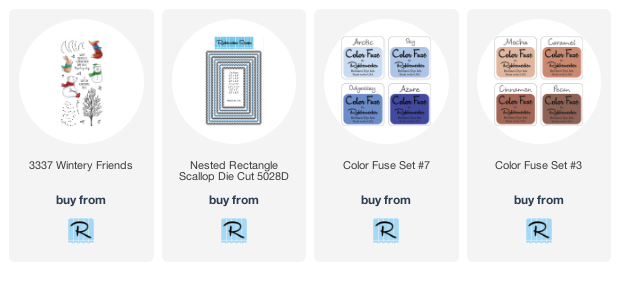 Wow! Aren't those shadows just amazing? What a great example of how to use the masking technique to add all that depth and dimension without a zillion layers of card stock!