Mix your media and supplies to make a super cool card background!
Mixed media birthday cards are always fun because you never really are 100% sure how your creation will turn out so there's an element of surprise. We love the idea of experimenting with a collection of some of our tools and different applications of art media and today Natasha has created this colorful card loaded with texture. Let's get a closer look at the making so we can try it, too!
Natasha started by taping our Cheesecloth stencil over a piece of watercolor paper and applied some texture paste through it, here and there, peeling it off to let the panel dry and immediately cleaning her stencil so none of the past became a permanent "accent".
Once the texture paste was completely dry, Natasha used some sprays from her stash – a mix of both oxide and acrylic – to add the base colors for her background.
Natasha let each layer of color to dry before adding the next to keep all the colors distinct and vibrant.
After her last spritz of color was dry, Natasha laid our Honey Combs Stencil over the surface and gave it a spray of yellow acrylic for some pops of brightness.
Now she stamped one of the leaf images from our Colorful Vines set with Versamark and heat embossed it with powders for texture (this step is hard to see in the photos but it it adds some lovely reflective texture when the card is in motion). For even more visual texture and some vintage-y details, Natasha inked up small sections of our Coffee Background stamp and stamped over her magical background in black ink for contrast. She then splattered the panel with some metallic and white inks for even more detail. When this panel was done to her liking, Natasha cut it out with the largest die from our Nested Rectangle set and set it aside.
She now turned to her pretty floral focal elements. Natasha used our Coneflower die to cut two sets of shapes from watercolor paper and adhered them together with liquid glue. PRO TIP: Adhering layers of die cuts together not only gives you a sturdier element to color but adds some visual weight to your elements as well. This is a handy way to make sure that finer elements don't get "lost" against a dynamic background.
Natasha water colored her flowers, coloring in layers and allowing each layer to dry before adding the next to keep the colors and shading from getting muddy, and allowed it to dry thoroughly. Once dry, she splattered her flowers with some metallic inks for even more dimension.
Now Natasha stamped the sentiment from our Birthday Case set onto a strip of vellum slightly wider than the card panel with Versafine black ink and heat embossed it with clear powder. PRO TIP: Always use an anti static tool when heat embossing on vellum – it LOVES to hold onto stray specks! And to prevent warping or scorching – which can easily occur with vellum – simply use the lowest heat setting or hold the tool further away from the surface AND heat from the top AND the bottom.
She then wrapped the vellum band around her mixed media panel and adhered those little flaps made from the extra width to the BACK of the panel, wrapped some twine around the panel just above the sentiment and then popped the panel onto her card base with her tape runner. Natasha added her stem die cuts to the card with liquid glue and the flowers with dimensional adhesive and, not doubt, stood marveling at her card!
This card is positively loaded with details and fun things to look at and as you can see, it's really just using what you like and want to see together and when you play around – voila! Super cool mixed media birthday cards, get well cards, congratulations cards – ANY cards!
Here's what Natasha used today. And remember – once your order hits $29 you get FREE SHIPPING! WOOT!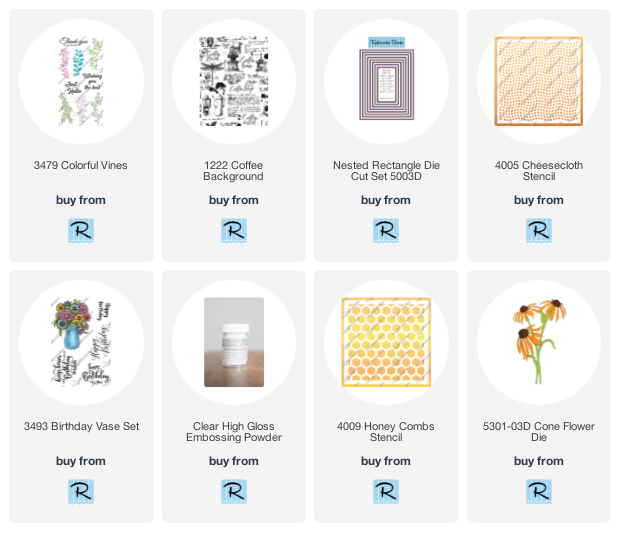 Does this make you want to try your own mixed media birthday cards? We double dog dare you to try one! Grab your favorite stencils and colors, stamps you like together and a die set you love and see what happens! And here's an ask-us-how-we-know PRO TIP. If you make something and don't love it, walk away and come back later. We are pretty sure you will see it in a new light and will be tempted to make even more mixed media elements for your cards!