If you are looking for modern graphic Christmas cards to make this year, you HAVE to see this one!
We've seen lots of fun ideas for modern graphic Christmas cards to make and so many of them are so complicated or use a ton of supplies. We are all for those multi-step projects but when you are making a batch of cards, you want something that is streamlined and quick to put together but still is eye poppingly fabulous.

Well, today Ricky is making our eyes pop! Is that card not SO gorgeous? And you would never know how fast it is to create with all the great detail and depth.

Check out the steps and see if this might just not be YOUR card this year!
Ricky started by making a card base from white card stock and then using his stamp positioner, stamped the tall sentiment from our Christmas Cheer set onto the card on the right side. If you are batch making this project, you can just make all your card bases, get your stamp in the right spot and just stamp away as many as you need in short time.
Ricky used the dies from our Santa's Face die set to cut scraps of card stock for the different elements. He did the beard and hat trim and ball in white, the hat in red and the mustache out of a light, cool gray. PRO TIP: Using the gray for the mustache adds a little more contrast and dimension.
PRO TIP: Some of our dies come as one piece with small attachments of the metal. You can leave these are one piece or cut them apart with wire snips.
If this is your batch making winner, pick a great flick, plop down with your dies and machine and just cut away.
Now to assemble! Ricky adhered the hat pieces together using liquid glue and then the mustache and beard. He added these now-two elements to his card, slightly overlapping the sentiment, with some foam tape adhesive for those great shadows. Aaaaaaand, it was done!
Ricky says this card took him a total of 13 minutes to make from start to finish for just one card – your time per card will be MUCH less when you make the parts and pieces in batches.
Here are the only two things you will need from our store to make this card: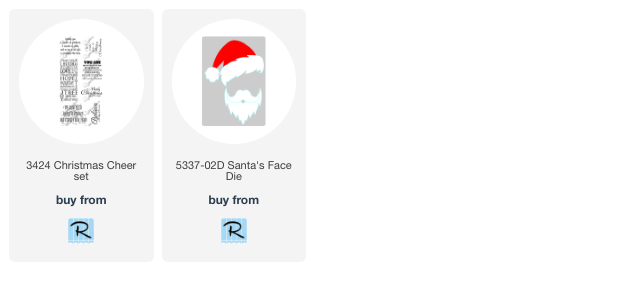 This fabulous example of modern graphic Christmas cards to make one by one or in a batch is a stunner and we are pretty sure we might see some of these getting sent around this year!