Use several nested die cut frames to really set off elements on a card!
We sell four different dies to make nested die cut frames and we have to say that they are very popular probably because they cut so many pieces all at once! While you can certainly use the frames individually, they do look truly striking when used together, as on this gorgeous card from Allison. Shall we try making one?
First, cut a piece of white card stock with our Rectangle Combo #2 OPC die. Keep the three outer frames together and save the middle three for another project.
Now lay our new Repeating Bricks stencil over another piece of white card stock and using your favorite blending tool, apply some Fern Color Fuse Ink from Set #11 over the stencil to make your bricks. PRO TIP: Use some old washi tape to stick down your card stock and stencil to keep anything from shifting so your lines stay crisp.
Making sure that your stenciled panel is completely covered, adhere your frame assembly over the bricks with some adhesive tape. Add the whole thing to a card base using some dimensional adhesive for just a touch of white on white dimension.
Now stamp your flowers and color them in with your favorite coloring medium. Die cut all your colored elements and arrange them how you like over the front of the card, tucking in some ends and allowing other pieces to flow across your frames. This adds TONS of visual motion and causes the eye to not want stop looking at your card! When you have everything placed how you like it, adhere your pieces with liquid glue and varying thicknesses of dimensional adhesive.
Now choose and stamp your sentiment and trim to a tidy little rectangle and add with more foam tape. This card is just so pretty and really quite simple. An added bonus is that just by switching out your greetings you can have a card for any reason.
Here's what you need to add to your cart to make this captivating card: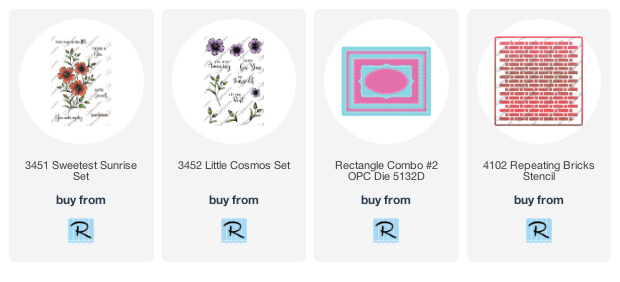 We hope you decide to give these nested die cut frames a try on your next project. They are so handy to use to, well, frame a project and they add loads of visual texture and interest with just one spin through your machine!