Come see what is brand new from Rubbernecker October 2023 – fabulous fall finds and a frosty harbinger of the coming season!
We are super excited to share with you what's new from Rubbernecker – October 2023. Two new Paper Pads from the talented Melinda Stearns, perfectly timed elements to add to your fall cards and a new nested set with a beautiful fresh new decorative edge. Let's get peeping!
First is our new Festival of Colors 6 X 6 Paper Pad hand painted by Melinda. Melinda's eye for watercolor patterns is like no one else's and we are so thrilled to be able to share her talents on our papers. With a fall theme running through the designs but with lots of complementary colors and motifs, these papers will get great use any time.
Just look at those glorious leaves cut from the designs!
And here as a gorgeous, textural background.
And in this card, both as a background AND as the luxurious foliage on the trees.
Now if you still have breath to look at more of Melinda's beautiful designs, here's our Frosty Adventures 6 X 6 Paper Pad. With wintry designs and those unexpected pops of hot colors, these too are designs you won't want to restrict to one season!
Now is there any flower that makes more of a crowning statement in the fall than the glorious sunflower? These new Sunflowers Dies are so easy to use and whether you use one or the whole patch of these beauties, your cards will glow!
We thought it was high time we added some whimsy and cuteness to the humble scarecrow and our new Cute Scarecrow Die packs a lot of personality into his design.
Then in the same vein, we offer this turkey. He's all dressed up with his snazzy hat – do you think he knows when he was "invited" to dinner that he was going to BE the dinner? Maybe that's why we call him our Crazy Turkey Die!
This pretty all in one design is a perfect way to add tone on tone texture or a bold graphic element to a project. We can see this new Pumpkin Cutout die being used LOTS of different ways!
Just as in nature, there is no such thing as "too many" designs for leaves. This assortment in our new Leaf and Greenery #4 Die set will bring your foliage designs to new life – not just in the fall!
We get asked sometimes if we have a die with a little this or a little that. We pulled together some of the most requested accessories for fall projects and put them together on this handy little collection of Fall Door Parts Dies.
And more of the same for your nature cards – how cute are those little mushrooms? Our new Fall Mushroom Acorn Die set fills in some spots!
Do you love the look of insert die paper piecing? Or just love line die designs? Then this one is for you! Create multicolored elements with this new Pumpkin Outline die or use just the outline alone as a quick pop on your projects.
Fill this beautifully detailed Cornucopia Die with anything you like and let it make a statement!
The bubble edging on this new Nested Rectangle With Small/Large Holes Die set can go from dressed up and elegant to fun and fresh depending on how you use it. Our design team have flipped for it and we are sure you will too!
To grab any of these hot off the press goodies, use the handy links below to add things to your cart – make sure you are signed in – and get them delivered right to your door.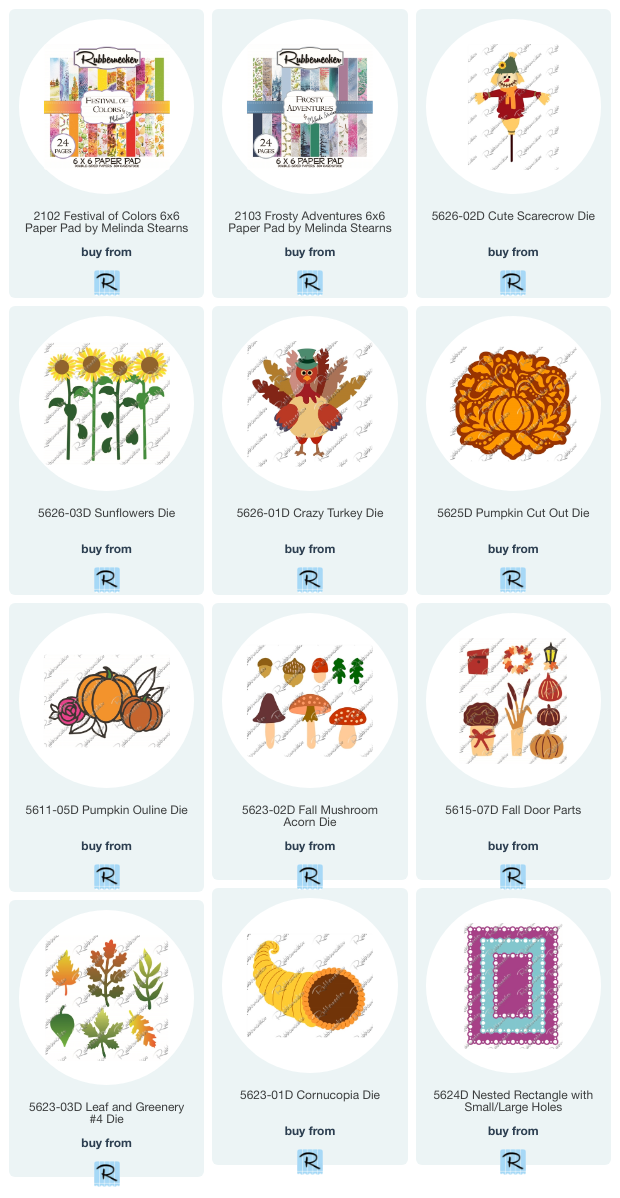 If you are excited as we are about all things new from Rubbernecker then today is happy day indeed!