Come see what is brand new from Rubbernecker September 2023 – spooky and sweet, it's all trick or treat!
With the next couple of months being focused on Fall and Halloween themed projects, we decided that all the items new from Rubbernecker this month would be 100% treats and no tricks! Based on all the fan love we get for our adorable designs, we added more cute Halloween but kept in a little spooky Halloween to keep it real.

Let's dive headfirst into the candy bucket!

First up is our new Jack O'Lantern Stencil – what a quick and easy way to dress up any background!
Just look what it does to this otherwise simple card (scroll down to see where those ADORABLE little ghosts came from)!
Now for some hints of spooky, we have our new Bats and Tree Stencil. This lets you add these oh-so -slightly creepy elements individually wherever you want on your projects. We can see this layered with our Half Tree Die as a subtle touch of eeriness.
Aren't these details fantastic? And look how fabulous the bats from our Bats and Spiderwebs die works with the stenciled creatures in the background!
We created this new Ghostly Greetings set so you could add your own little "story" to your cards by mixing and matching the stamps. Note that some of them are perfect for the insides of your cards!
Now, we all know that Pumpkin Spice season is starting to pop out and what better way to celebrate the season than with some hot Halloween brews? Our new Spooktacular Coffee Set Stamp with an available coordinating die will let you take full advantage of all the yummy liquid libations you can dream up.
How delicious are these cards?
And do you spot our Spook-Tacular 6 X 6 Paper Pad on this one? Like Morticia and Gomez, these new stamps and dies with the paper are a marriage made in…….heaven?????
Next we have our scarily cute Halloween Cats Stamp Set also with a coordinating die available if you like to cut out your elements.
People who love to color – this set is calling your name – just look at all these precious details!
Remember the card above with the new Jack O'Lantern Stencil? The sweet little spectres on that card are from our new Cute Ghosts Set. And you know we made you a die you can grab, too!
We are all for the shivers but these fellas bring the most delightful feel to the Halloween vibe!
When we released our Pumpkin Dress Up set last year, everyone went "batty" for them so we added some friends! Our new Pumpkin Dress Up #2 Stamp set with the available die is one we expect to zip out of here and you can see why!
There's something about all these little pumpkins in their darling costumes that is just so irresistible!
If these items gave you the shivers, just click on the things you absolutely MUST have in your candy pail and get them delivered to your door!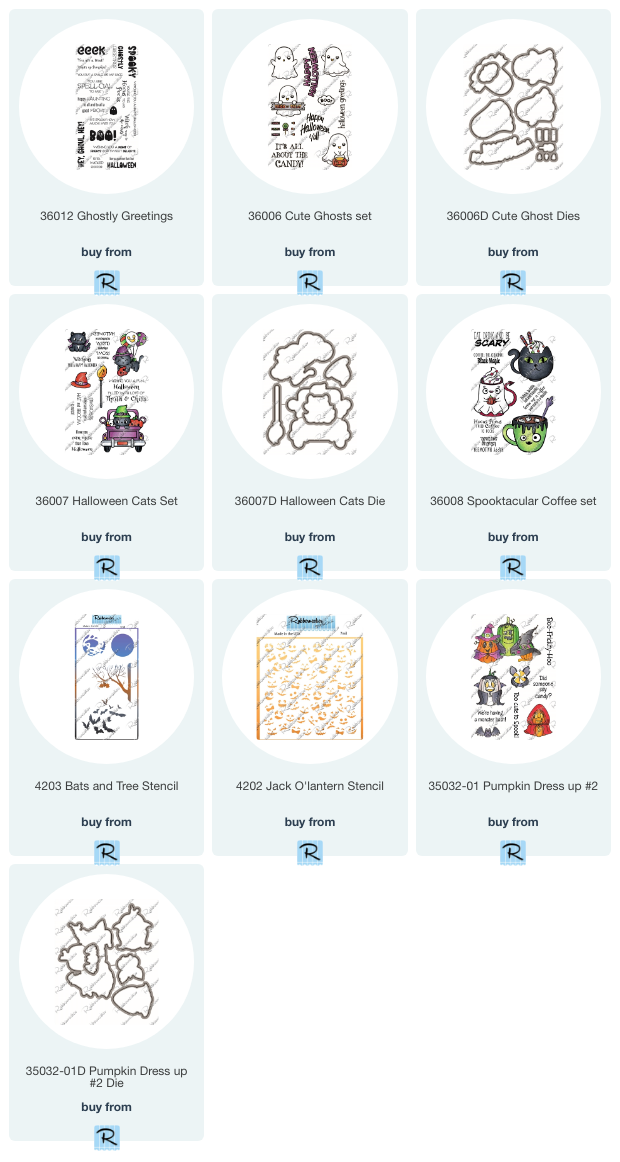 All these new from Rubbernecker September 2023 items are designed to help you make this year's cute Halloween projects!