Check out how to create watercolored cats using no line stamping!
Chances are you've seen how to do no line watercoloring with stamps in the floral range. Today, even though she says she's "normally a floral gal all the way", Melinda has chosen to demonstrate this easy and fun technique with the kitties from our new For Each Other set. Let's get to it!
Melinda started by cutting a piece of watercolor paper with the largest die from our Mini Slimline Tabbed Scallop Stitch die set and taped it down to her work surface. PRO TIP: if you don't have masking or painter's tape, use some of that washi tape you got in a set that you can't stand! PRO TIP 2: If you apply your tape carefully along the edges, lining them up with the scallops, you can create a nice border for around you watercolor work.
Melinda stamped her cats with Chill Color Fuse Ink, the palest gray in Set #12. She says to keep it very light, just enough to give you the basic shape on the watercolor paper.
Now she used her watercolors to paint one of the kitties in brown, leaving some white spots and the other in orange with pale brown touches in the shadow areas.
Melinda notes that it's important to let each application of watercolor paint dry before moving on to make sure that your colors don't blend all together causing you to lose your beautiful details. So when that first layer was completely dry, Melinda use her same watercolor paint colors but added just a little less water to create a darker shade. She added her shadows and also colored in their little noses, their cheeks and the bow with some soft pink.
.
Again, Melinda let her latest additions dry thoroughly and then added more dark details in the shadow areas and to add the tiger stripes to her furry friend.
Once that was all dry, Melinda worked on her sky using a very watered down mix of blues, leaving some areas unpainted to serve as her clouds. She says "a nice way to define clouds is to dab away the blue with a paper towel." Great PRO TIP, Melinda!
Once the sky was completely dry – again, to prevent bleeding at the horizon – Melinda added her grassy area using greens, yellow and just a touch of brown. To help create a realistic look, Melinda wet down the area with a wet brush and then dabbed the colors on and watched them blend.
Again, one everything was completely dry, Melinda added her final detail touches with dark pink on the bow, a few little brush flicks of dark watercolor paint for grass and their whiskers, painting over those pale gray lines from the original stamped images.
Now Melinda stamped her sentiment using Hearth Color Fuse Ink from that same Set # 12. A few little sequins and this sweet card was ready to send some warm and fuzzy feelings.
SO sweet and you would swear it was painted "from scratch"! Here are the items Melinda used that you will want to add to your list to make this card at home: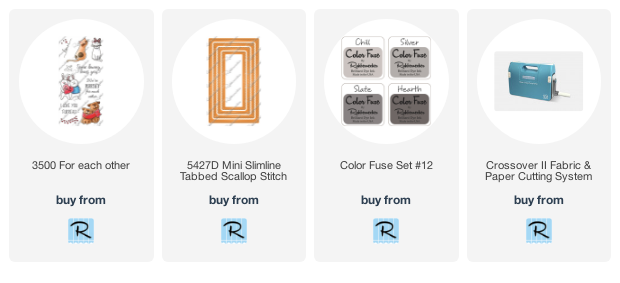 How fun is this technique? The great thing is that this method of no line watercoloring with stamps can be used with any stamps that you can envision as watercolored images. Try it out and let us know what you think!