We see it everywhere in the stores and now – a pumpkin spice season card made even better with gnomes!
We totally cracked up when we saw this pumpkin spice season card from Lisa! This time of year it seems like EVERYTHING is "pumpkin spice" and this colorful, sweet and cheerful card from Lisa really adds something special to the lineup. Let's dive in, see how she made it and try one out at home.
Lisa started by stamping the images from our Fall Gnome stamp set, colored them up and then cut them out with our coordinating die.
Then she took a piece of the patterned card stock from our Autumn Leaves Paper Pad, cut it with a die from our Nested Rectangle Small Stitch die set and layered it over piece of orange card stock and then white card stock, each cut to add a border of ⅛ " on all sides to form her background. She adhered this to her card base and set it aside to work on her details.
For her frame, Lisa, cut another piece of patterned card stock from the same Rubbernecker Paper Pad with our Inside Scallop Frame die set. PRO TIP: Lisa cut all three and then just tucked the extras in with her dies for future use.
Now Lisa cut all four trim pieces from our Shed Bird House Add On die set from dark brown card stock. Lisa says "I love the woodgrain embossing on these dies." We love that she found another cute way to use this textural element! Lisa snipped the slimmest strip and used that to adhere the other three together to make a little "wooden" element as a setting for her sentiment.
For that sentiment, Lisa cut one of the shapes from our Small Tags die set and then, masking out the central image, Lisa stamped the words with Versamark Ink and heat embossed it with white powder. She then stamped the central image onto a scrap of white card stock, colored it in and then cut it out with the die.
Now she assembled all these delicious little details! Lisa added the frame to the card with some dimensional adhesive.
She then arranged all her elements inside the frame using a variety of thicknesses of dimensional adhesive to create some realistic depth.
And of course we can't have those sparkling personalities from the gnomes not be reflected somewhere on the card! Lisa popped a couple of tiny gems on the card and it was ready to absolutely tickle someone's fancy!
Here's what you will want to have from our store to create this adorable, perfectly seasonally timed card!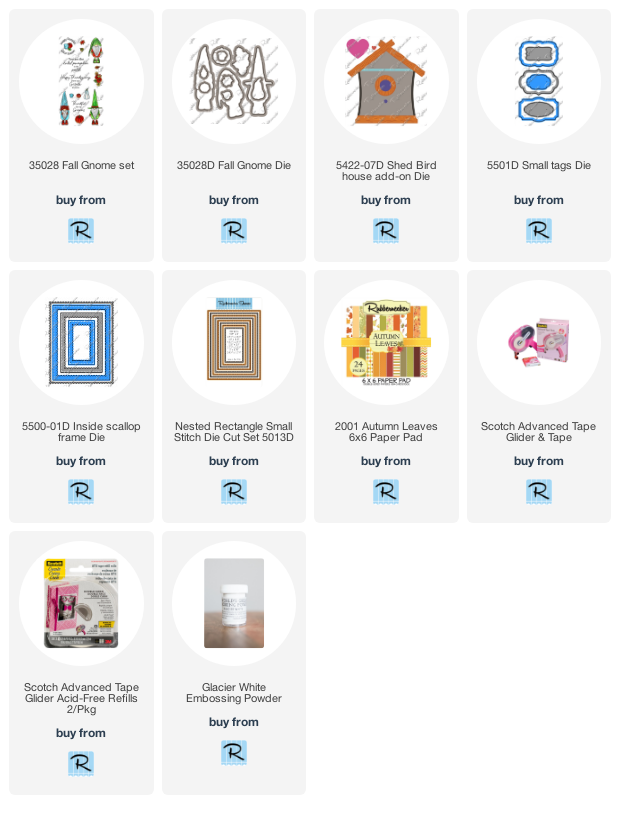 If you've been either getting really excited by or rolling your eyes at all the mentions of this seasonal favorite, this pumpkin spice season card is the perfect project for you to make!