See how you can make two quick and easy handmade friend cards at once – SO gorgeous and perfect for batch making!
People are absolutely LOVING our Delightful Dahlia 6 X 6 Paper Pad and the coordinating die. We have received so much feedback about how you love the colors, the designs and how fast you can make cards with them. Today, Jamie she showing off her beautiful idea for quick and easy handmade friend cards using these two items and because each pad can make 24 cards like these, it's a total deal!
Let's see how Jamie worked her magic.
Jamie started by making her backgrounds. She die cut one of the overall patterned papers from the Paper Pad using our A2 Striped Cover Die. When she removed the die cut from her machine, she left the strips in the die cut and added adhesive to just those strips. She then cut a piece of card stock to 4 1/4″ x 5 1/2″ and centered it over the die cut, pressing down to pick up the strips in the pattern.
Jamie now adhered the frame portion of the die cut to another identically sized piece of card stock and got two cards from one cut!
Jamie also die cut her dahlias and leaves from the Paper Pad with the available coordinating die and also die cut some vellum with our Nested Circle Scallop w/ Pierce die set. She also cut our Friends Script w/ Shadow die set, cutting the script from black card stock and the shadow from white.
To coordinate her sentiment with her flowers, Jamie sponged some Lilac Color Fuse Ink from Set #6 over the shadow and when dry, adhered the black script to it with some liquid glue. PRO TIP: Using liquid glue on tiny elements where placement is important is great because it gives you a little time to nudge things into place before "grabbing".
Now Jamie put it all together! She adhered her die cut background to a white card base and added the vellum circle to the lower left side corner of the card. She added her dahlias by adhering the large one with her tape runner and then the smaller one with some dimensional foam adhesive. After tucking in the leaves around the blooms, she added her sentiment with more foam tape and the beauty was ready to send!
Here's what Jamie used today and if you haven't looked at that Delightful Dahlia Paper Pad, we recommend you do since you can get so much card-making mileage from it!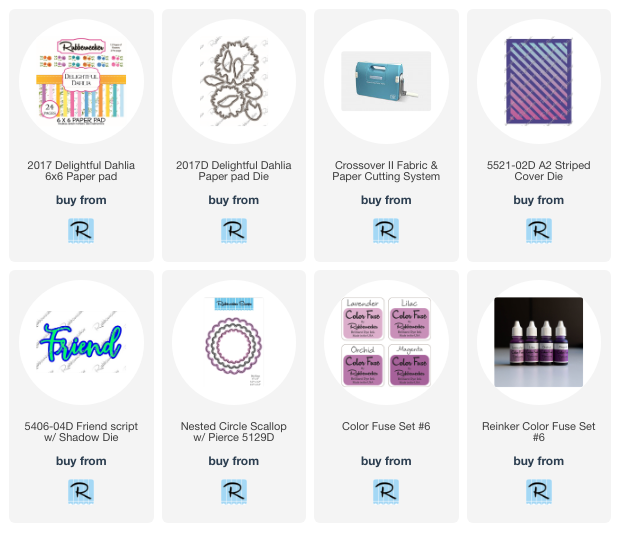 Having a stack of quick and easy handmade friend cards on hand is such a lovely feeling and this card design is so great that you could leave off the "friend" and add any other sentiment and have something truly special ready to go. Try it out and see how much you love making them and how much your friends love receiving them!