You are going to LOVE this design for quick and easy poinsettia Christmas cards!
This flower is such a classic and iconic emblem of the holidays and today Jamie has created for us a design for quick and easy poinsettia Christmas cards that are just so pretty and dare we say again, perfect for batch making!
As much as we all love to make and receive one-of-a-kind cards, projects that are easy to mass produce and still have touches of individuality can be hard to find. Recently, our designers have been sharing so many amazing ideas for cards that are perfect for batch making and today's is no exception.
Let's take a look at the making and talk about how it ca be broken down into easily do-able steps that you can adapt to the slivers of time you have.
Jamie started by stamping the flower and leaves from our Buildable Poinsettia stamp set with black ink onto watercolor paper. She then colored her images with watercolor pencils, using the stamped lines as her guides and just tracing over them, blending just a hint of color in between. We know from personal experience that this is an excellent task to do in front of a Netflix binge session!
After coloring her elements, Jamie cut them out with our coordinating Buildable Poinsettia die set and while she had her machine out, She used our Quilted Stitched Pierced Cover die to cut a piece of white card stock and then used our Nested Oval Stitch die set to cut some white and red card stock scraps.
To add a little shine to this card, Jamie chose to stamp her sentiment in black ink and heat embossed it with clear powder. You can skip this step if you are short on time but try it both ways to see which you like better. Sometimes it's these little details that add a lot of impact.
To put the card together, Jamie adhered her white pierced panel to a red card base, adhered her ovals together and then adhered them to the right side of her card. Using dimensional adhesive, she popped up her die cut poinsettia overlapping her sentiment assembly. Using dabs of liquid glue, she tucked her greenery under the edges of the blossom. Last, to echo the shine in her sentiment, Jamie added a few little rhinestones here and there on the background.
Here are the things from our store that you will want to use to make this beautiful card: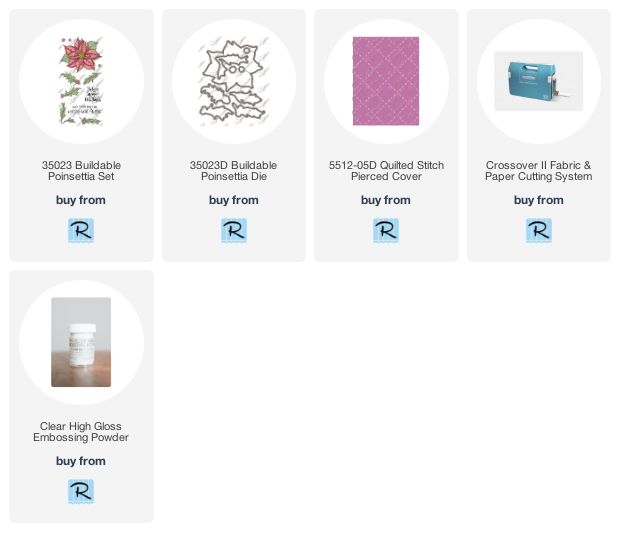 What makes this idea for these quick and easy poinsettia Christmas cards so perfect for mass production is that each step can be done independently of the others. Do all your stamping, then all your coloring, then all your die cutting. You can do the die cut putting-togethering all at once or, again, in those small chunks of time and then add all the sparkle at once. Easy peasy and oh so pretty!