Learn how to make a round card with this easy tutorial!
Have you always seen a perfectly round card and wondered how the heck you could make one without having to reinvent, well, the wheel? Today, Allison is showing us all how to do this using circle dies and some fun tips to finish it off so perfectly. Let's dive right in!
First, fold a piece of card stock you want to use as your card base and make sure the fold is nice and tight. Take a large circle die like one from our Nested Circle Small Stitch Die set and place it over the fold so just a little sliver of the die is OFF the material. Use some washi tape or a Post-It note to hold it in place just in case it shifts.
Back:
Front:
Here's how it will look when you cut it:
Closed:
Open:
Now you have a perfectly cut round card base with a funky little "flat spot" – but read on to see how to cover that up for a gorgeous finish.
First, use your favorite application tool and blend your choice of ink over the front of your die cut round card. Allison used greens from Color Fuse Set #11.
Then start cutting and building your layers. Use the same sized circle you used to cut the card base and the next size down to cut a narrow frame, again using some washi to keep everything perfectly aligned.
Adhere this frame to the card, covering up that little flat spot. Now it looks like MAGIC!
Use a die from our Nested Circle Scallop die set and a Stitched circle die together to make another frame with a scalloped edge.
Take the circle that you cut making this frame and blend ink over this, too, using the same shades from your base along with another color for accent. Here Allie used inks from Color Fuse Set #5 for the sky.
Stamp your sentiment on this circle. Add it to the card base, and then adhere the scalloped frame on top. Now you can add any images you want. Here Allison used our Woodland Animals sets #2 and #3 to create her adorable little hedgehog and some branches with foliage. She stamped, colored and cut them out with the coordinating dies and arranged them inside the circle. PRO TIP: cut a second scalloped frame and use it to cover up any spots where your images were adhered for a super tidy finish – you can even pop this up with a thin layer of foam tape for a little added interest.
So cute, right? Who knew making a round card could actually be this easy AND look this good? Here are the items from our store that you will want to grab to reproduce this project: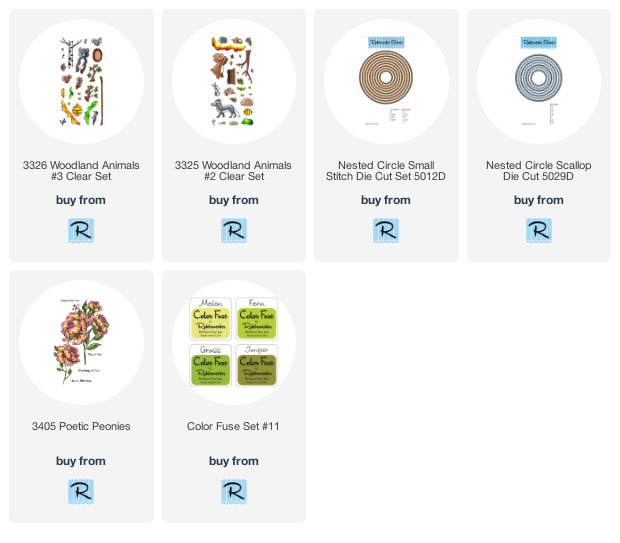 Now that you know how to make a round card and how to dress it up, what occasions are you thinking would be perfect for this technique? We'd love to hear either here on the blog or over on our Facebook page!