Get a sneak peek at Rubbernecker's new Festival Of Colors Paper Pad designed by our own Melinda Stearns!
We are so very excited that our very own Design Team member Melinda Stearns has created another new treat for us all. If you didn't catch this on the release, you can now buy Rubbernecker's new Festival Of Colors Paper Pad. Loaded with gorgeous, deep, rich Fall colors, this pad has the most luscious designs all created by Melinda.
Today Melinda is sharing a card she created with her own designs and it is absolutely GORGEOUS! Melinda says "I just love how this pad turned out and I hope you do too. This pad is fall inspired, but there are other colors in the pad to make it useful throughout the year."
Let's get Melinda's own words to share how she created this and then we will be back.
Start by taking a 4″ x 5 1/4″ piece of white card stock and stamping it with the Cracked Mud background stamp using Lemon and Amaretto Color Fuse Ink from Set #1. Add just a touch here and there of the Amaretto. You are using two different colors to add just a touch of texture to this background.
Now, I also wanted to share a little trick I learned about the Mini Slimline Circles Stitch die. I figured out a way to use it for A2 sized cards therefore making it that much more useful. I just eyeballed the placement and it worked out great; I placed the die the long way about a half inch from the edge.
Ru that through your die cut machine and then replace the die on the other side and run it through again.
Now you've got two rows of three circles all on one panel. Pop this panel onto an A2 sized card base using foam tape.
Next take a sheet of the mixed media paper, one with oranges, reds, purple and some gold. I used the piece with sheet music on it.
Cut that paper with the Maple Leaves die twice.
Put foam tape onto the backs of the leaves and a touch of glue on the edges of the leaf where it touches the circle. This isn't necessary but does give the leaves a bit more support if they are going through the mail.
Adhere the leaves down inside the circles. I chose to position mine in different directions but you do what you like the best!
Pick a sentiment that suits your recipient. A strip sentiment works the best for this design. Treat your black paper with an anti static powder and stamp with watermark ink. Sprinkle on the white embossing powder and heat set. Place the sentiment in-between the two center leaves.
Rubbernecker back – truly lovely! And so easy! Without Melinda's artful designs, this kind of card would take a LOT longer but now we can all have the Melinda look on our own projects!

Here's what you will want to grab from the store to make this card and all the variations you can dream up: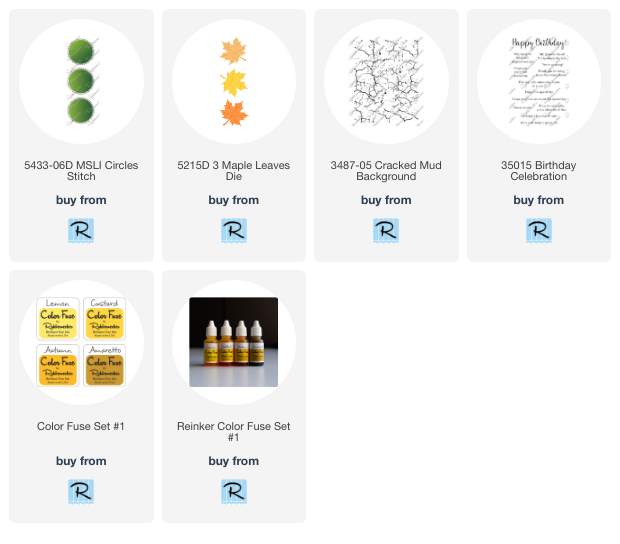 We are pretty sure that once people get an eye on what Rubbernecker's new Festival Of Colors Paper Pad can offer for everyone's card making, these will go out as fast as they come in. Grab yours now while they are here!