Come on over and get all the steps to making these simple gorgeous handmade fall cards!
Today Melinda is sharing this idea for the most simple, gorgeous handmade fall cards and we LOVE how much these leaves look like the real thing, all just with some of our Color Fuse Ink! Melinda says "I am so excited for fall!! Its my favorite season and I look forward to it every year. Unfortunately we don't get a lot of fall color where I live so I will create it on this fun slim line card." Bot, did she ever! Lets get Melinda's own words for the making and we will check back in at the end.
Start by creating your card base. I like my mini slim lines at 6 1/4″x 3 1/4″. Next cut the base layer from any of the beautiful patterns in the Autumn Leaves 6 X 6 Paper Pad to 6″x 3″ and adhere to the card base.
Now take a piece of white card stock and cut it with the Mini Slim line Rectangle stitch Die. Stamp your sentiment – I chose a single word to be able to use this card for any occasion – and stamp it into one of the rectangles in the lower right corner.
Adhere the three white rectangles to the front of the card using both foam tape adhesive and liquid glue. The liquid glue over the tape makes the element moveable so you can shift things around and get them perfectly lined up without tearing the paper.
Now cut a piece of white card stock with the leaves from the Leaf Trio Die. Add some washi or low-tack tape over the back of the openings of your now-scrap piece of die cut card stock. Replace the leaves into their openings, pressing lightly to get them to sit firmly in their spaces. Now when you ink blend, you can get right to the edges and save your manicure at the same time.
Use an assortment of your favorite fall colored Color Fuse Inks, blend the inks over the leaves randomly, just like in nature. I used Clover, Crimson, Custard and Apricot (the sets are listed below). Use two or three colors per leaf to give it a realistic look.
After you're done ink blending swipe a water mark ink like Versamark and sprinkle with clear embossing powder and heat set. The gloss adds a little shine and shows off the colors beautifully!
Adhere your leaves to your card and – believe it or not – you are done!
Rubbernecker here. Is that not SO spectacular? And is this not such an amazing batch card? You could use this as your all-Fall birthday, congrats, friend or even a consolation card. If you can fit your sentiment on the rectangle, you could either pop it up over the elements or leave the card blank on the outside and either write or stamp a message inside.

Here's what you will want to have from our store to make these beautiful cards: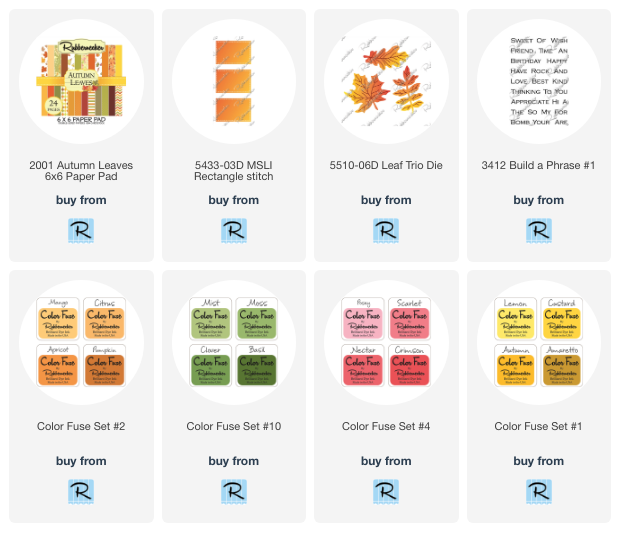 We are 100% sure that these simple gorgeous handmade fall cards would delight the (fuzzy) socks off anyone lucky enough to receive one and thanks to Melinda today, you can make one or a stack and be that person who gets to put a smile on someone's face!