Checkout what you can do combining stencils and masks together!
Today Renee has created such a pretty card for us that shows how combining stencils and masks can add a TON of beautiful detail with some very easy steps! In her own words, "Fall is the season of thanks for the past year and for what is to come". What a lovely sentiment! Renee has created a perfect Fall card that expresses that loving gratitude toward the lucky recipient. Let's learn how to make this for ourselves!
First, Renee took two pieces of card front sized white card stock and ran one through her die cutting machine with a die from our Nested Circle Die set in the center of the piece side to side and slightly above center top to bottom.
Renee placed the piece of card stock with the die cut opening over the other panel and used some washi tape to tack the twotogether to prevent shifting. Then she used shades from our Color Fuse Set #2 to blend orange through the circle, shading as she went to add some textural interest.
She then took our Organic #1 stamp set – an all time customer favorite – and chose some of the flowers to stamp in the circle with black ink to create a beautiful silhouetted look. Renee says to not be afraid to overlap the images – just create the scene you want to see.
When she was done stamping, Renee removed her top piece to reveal a clean crisp circle with her flowers perfectly silhouetted inside. Now, she took the circle die cut and placed it over the inked and stamped circle. Renee did use some washi tape in a double sided loop on the back of the circle to keep it from moving at all. She placed our Swirls stencil over her panel and tacked that down, too, with more washi.
Then she used the green shades from our Color Fuse Set #10 to blend through the stencil onto the remaining area of the stamped panel. To echo the variegated look of her inked orange circle, Renee used all the colors in our Color Fuse set and blended them together for even more luxurious depth.
Renee removed the stencil and the mask and revealed her exquisite double-colored single-layer panel. She used a stamp positioner to add her greeting over the two colored areas in black. She then stamped the "you" from our Flower Garden set onto a scrap of black card stock with Versamark and heat embossed with white powder for some emphasis, trimmed it closely with paper snips and added it with a foam square diagonally across from her stamped sentiment to add some visual balance.
Renee layered this beautiful panel over a very thin mat of black and then onto an orange card base to finish it off.
We just love all the depth and movement on this card! Here's what you will want to have out on your table or in your cart to reproduce this card: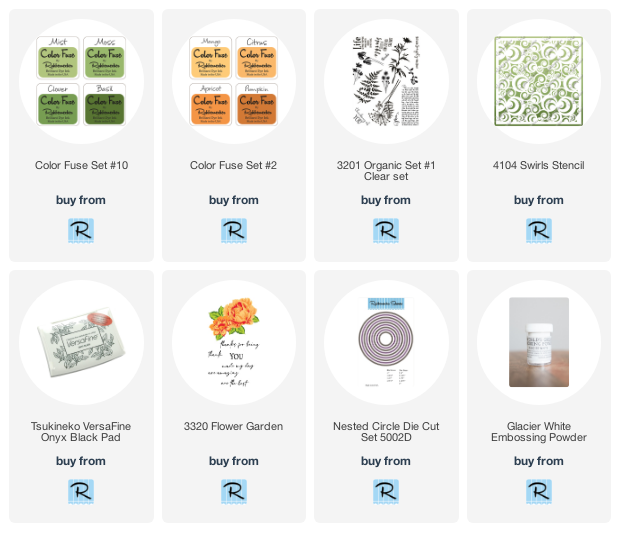 We love the idea of combining stencils and masks to create these multi-textured looks and would LOVE to know what you come up with. Be sure to share your creations on our Facebook Fan page – we have some of the nicest followers in the world!