See how you can combine two stitched rectangle frame dies to make the perfect setting for your card!
We offer several different types of stitched rectangle frame dies and today the talented Melinda has combined two from two different types of dies in a way that perfectly sets off her artful stenciling and die cut creations. And to think this was all a happy accident – Melinda says she was inspired to create this card when another project wasn't coming together. Talk about talented!
So let's dive in and see how Melinda put this miniature piece of artwork together. First she used our Branches and Leaves set to cut some shapes from a piece of card stock that she had been doing some mixed media style stamping on using Color Fuse Inks and watercolors. PRO TIP: NEVER throw out anything you don't like for a project because, as this card proves, you may find the perfect use for it later! Melinda also cut a few solid kraft pieces for variety.
Melinda then used our Rectangle Combo #2 die and cut the frames from white card stock, keeping the third largest (scalloped with stitching) and saved the rest for other projects. PRO TIP: Keep your extras in the same packet with your dies and you will always have them right at your fingertips!
Next Melinda heated up some Ranger Stamping Foam, pressed our new Repeating Bricks into it and created a fabulous "stamp" with all it's beautiful irregularities – just like real brick! – and stamped a panel of white card stock. After letting it dry thoroughly, Melinda cut the brick panel down to fit behind her scalloped stitched die cut frame.
Now Melinda used our Macrame Planters die set to cut out her little planters from white card stock and water colored two of them, one with brown and one with turquoise to both coordinate with and set off the lovely red tones of the brick. And then, in true artist form, she painted some leaves on the last planter with some olive watercolor but says you could use a little stamp if you weren't feel so courageous.
Melinda cut her card front using the largest die from our Nested Rectangle Stitched set and began assembling this stunning card. She added thin strips of foam tape to the back of her die cut frame, leaving a little gap for the macrame hanger for her topmost planter. She adhered her brick panel to her die cut stitched card front and then popped the frame over. She added her highest planter first, using a drop of liquid glue to secure the "string" to the underside of the popped up frame. She then filled her planter with her die cut leaves, also using a few drops of liquid adhesive to secure them to the backside of the planter and over the left side of the frame, adhering the planter and any leaves large enough with some foam squares.
She then arranged her foliage in the second hanging planter, sticking them down with liquid glue and then attached that planter to the card with some adhesive tape, again allowing some of the leaves to hang over the frame.
Last Melinda added her little hand painted pot with more dimensional adhesive and filled it too with some of the solid colored foliage, allowing this container to sit on the "sill" of the frame. Positioning one of her focal elements this way as well as letting some of the leaves spill out of the frame creates lots of excellent visual motion and helps bring the scene to life.
Finally, for her pretty greeting, Melinda stamped her sentiment from our Poetic Peonies set in VersaFine Clair Nocturne onto a scrap of white card stock and carefully tore the edges down to form a neat rectangle. She then tore a piece of vellum into another rectangle slightly larger than the sentiment. She adhered the two together and then added this to the card with some foam tape. She adhered this lovely panel to a card base and this knockout project was ready to be shared!
Here's what you will want to have at the ready to reproduce this charming, fresh and detail loaded card.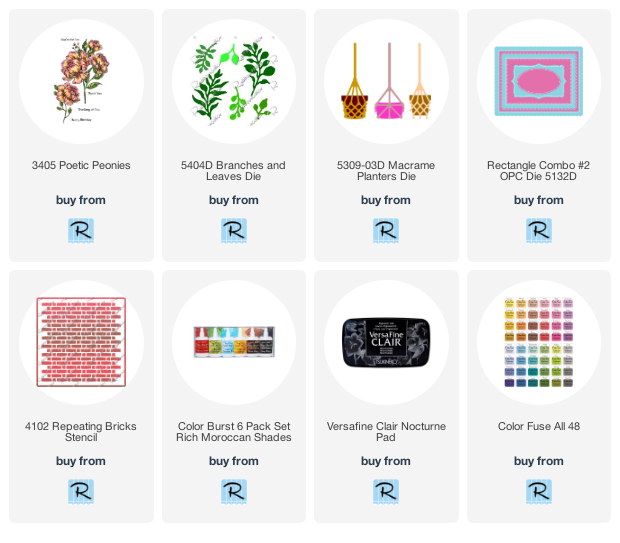 There are, of course, so many interesting and fun ways to combine different stitched rectangle frame dies. We think this card is such a beautiful example of how they can work together with beautiful details to turn a handmade card into a true work of art!