You just have to come see how realistic this tool themed handmade Father's Day card turned out!
When we designed these tools, we tried to add in enough details to make them look realistic. This card shows them off to perfection! Ricky has turned them out in blue and silver and all set against a bold black and silver background, they really shine. Let's take a look at how he designed this tool themed handmade Father's Day card and get some PRO TIPS.
Ricky started by cutting out all the handles from our Tools Die in a true blue. He then cut all the working parts from a silver mirror card stock. PRO TIP: for this kind of look where you want to see the embossing details, matte works best.
Then Ricky adhered these pieces together with tiny drops of liquid glue. PRO TIP: Ricky used reverse tweezers to hold them together for a second since mirror card stock can be slippery AND these are tiny so the tweezers really help give you precise placement and hold.
Now Ricky stamped our News Paper background onto a card panel sized piece of black card stock with Versamark and heat embossed it with silver powder.
PRO TIP: When stamping large stamps like this it can sometimes be a guess as to whether or not you are getting a complete image. Ricky uses the tried and true upside down method where you ink the stamp and place your paper face down on the stamp. Cover it with another piece of card stock and then press evenly all the way around and over the stamp with EVEN pressure. (Don't mash your fingertips into one area and then another – this will might yield splotches. Unless you WANT splotches – then press away!)
Ricky then used our MSLI Rectangle Stitch die to cut the center of the panel. He adhered this to a black card base with some foam tape to create little areas of depth.
For his sentiment, Ricky stamped and embossed his phrase with silver powder on a scrap of black card stock and trimmed it to span the center space. He added his tools into the little windows and adhered his sentiment strip over the center with foam tape.

Ricky adhered the other tools into the other two spaces. Something you might note is that Ricky oriented his tools the same way in each window, creating an asymmetrical look on the card.
This creates a ton of visual movement and causes the eye to skip around the card, noting all the delicious details. Also, the columnar style of the new print in the background creates an even greater illusion of depth, making this card a total standout!

Here's what Ricky used today to make this awesome Father's Day card: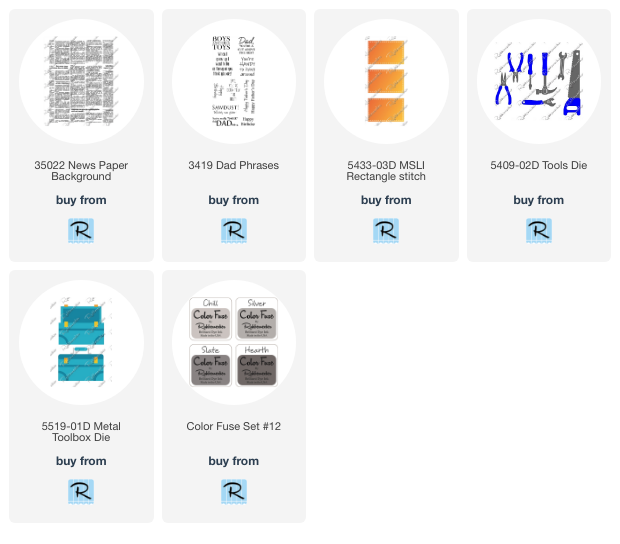 Note, too that you can swap the sentiment on this tool themed handmade Father's Day card and have an ideal masculine card – or a card for ANYONE who loves to tinker! Fun to make and fabulous to look at? Yes, please!