We are just loving that these incredibly colorful and unique thank you cards were made using a new slimline background stamp that we created as a fall themed item and – VOILA! – it's a thank you card! Isn't is delicious?
And our designer said that aside of the coloring of the background image, which for those of us who love to color is ALL the fun!, this card is super simple to make. This is another one of those awesome projects where you can stamp your images, pack them up with some markers and either plop down in front of a good Netflix/Hulu binge session or take with you to all those virtual/curbside events……
Carol started with a slimline card base; did you know that cutting your card stock to 7″ X 8 ½" and scoring at 3 ½" makes a standard sized slimline card that fits into a standard sized business envelope? Meaning no extra postage (unless your card is super thick or weighed down with embellishments) – win, win!
Carol got her greeting out of the way first by using one of the stamps from Best Friends, Etc , stamping with Versamark onto white, heat embossing with gold powder and trimming it down to span the stamped image. She popped some dimensional adhesive on the back and set it aside.
Then she got to coloring! Now, of course you can use anything you want to color these images (just make sure you use the correct ink for your medium). Colored pencils, watercolors, regular markers, alcohol markers – they will all work! Carol chose Copic markers today but lots of her coloring tips here will be helpful no matter what you choose!
Her first tip is to color the obvious images first, like the acorns, the pumpkins, the green leaves, the gold leaves…..the more images you color in, the more the design reveals itself and the more detailed you can get.
Second, Carol used a color wheel to help her choose her colors. She says "I knew I wanted to stay with warm colors and this wheel helped keep me away from the cooler toned colors." Color wheels run the range from dirt cheap to professional grade so think about the kinds of things you ponder when YOU are choosing your colors and find a tool that fits your needs. You can probably even find something on line!


Another great tip is Carol suggests coloring the background BEFORE coloring all the littler details because it really helps to have those small details stand out. For example, Carol shared that these tendrils really showed up so much easier when that beautiful blue background was all filled in.

Carol's last tip is to stamp the image twice so you have a "practice" page to test colors on, experiment with blending, etc. She says "I am showing you a NOT PRETTY image here! Haha!"

Then to finish the card, all she had to do was trim the colored panel to fit the base, adhere them together and pop on her greeting. Bibbity Bobbity Beautiful!
We love that Carol used this slimline background collage set this way and below are the others available now in the store: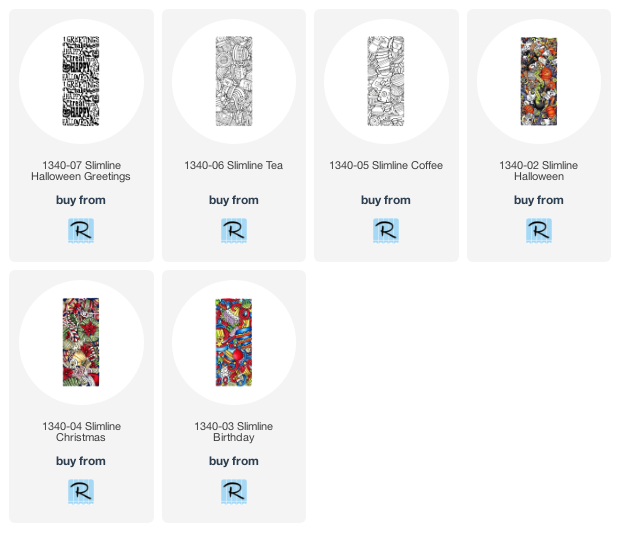 Has this got you thinking about your own versions of these unique thank you cards? Have we inspired you to create and send some expressions of gratitude and thankfulness? Please let us know either in the comments or over on our Facebook page – we LOVE to hear from you!