Check out how one of our new stencils created this amazing 3D design card background!
We never imagined that combining a graphic 3D design card background with some of our watercolor flowers would create such a captivating card and we are SO glad that Lisa did! Isn't this just the coolest card? Let's get right into the fun details of how she envisioned and created this project!
Lisa started by cutting a piece of white card stock using one of the dies in our Nested Rectangle Small Stitch die set. She took our new 2 piece 3D Cube Stencil and sprayed the stencil pieces with Pixie spray. PRO TIP: You can get Pixie Spray here on Amazon but if you aren't looking to add anything else to your stash, you can always use some washi tape to hold your stencils in place so they don't wiggle while you ink.
Lisa chose Color Fuse Set #9 for her stenciling and started by blending the lightest – Beachside – over the horizontal stencil onto her white die cut panel.
Next, she laid the second, vertical stencil over the panel, lining up the stencil pattern with the inked pattern. Lisa inked this with her darkest shade, Cedar.
To add that last, 3D effect, all Lisa had to do was literally flip the stencil over, line it up and apply her middle color, Whisper.
As Lisa says, at this point you will want to "stand back and be amazed… it's such a cool background!!" We've heard from so many people who've bought this that they never, ever knew they would be able to create such an eye-popping 3D effect on their own and are just tickled every time we hear them say it!
Lisa set aside her background piece and turned her attention to her card elements. She stamped some images from our new Sweetest Sunrise and Little Cosmos sets, colored them in with her Copics and cut them all out with our coordinating dies. Shed use our Window With Pierce die to cut a crisp window from white card stock. She then used our You Script With Shadow set to cut the shadow from purple glitter paper and the script three times from scraps of white card stock. She stamped her greeting on another scrap, trimming it closely into a rectangle. She also stamped, colored and cut a butterfly from our Butterflies Are Free set. Before moving on to the next step, she adhered the three script die cuts together with liquid glue.
Now she got to assembling this beauty! She added the white window frame to her card with some foam adhesive and then played around with arranging her die cut pieces. Lisa shared with us that she was very excited to see how beautifully we coordinated the flowers in the two stamp sets she chose because it gives so many additional design options. Once she had everything placed where she liked it, Lisa added her elements with varying thicknesses of adhesive to create a lavishly textured scene which appears to float above her 3D design card background!
As a last touch, Lisa added some Nuvo drops to the centers of her flowers and this impressively dimensional card was ready to surprise a lucky recipient!
Isn't this just SO COOL?! Here are the items Lisa used from our store that you will want to get your hands on if you want to try this out at home: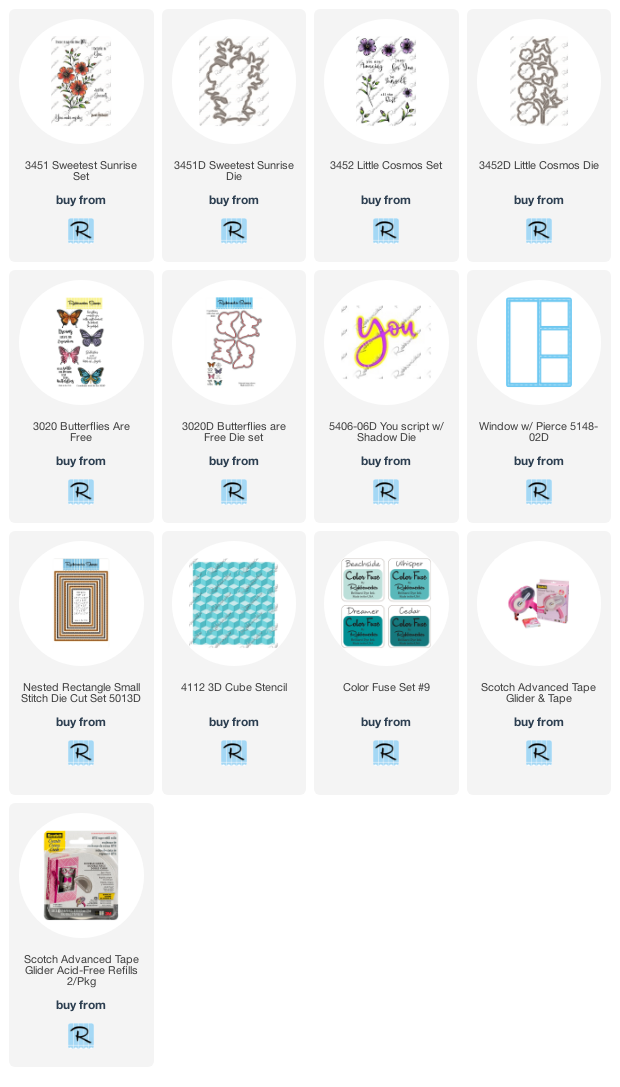 Are you all excited to try out this 3D design card background on a project? Can you see it in SO many other colors? And just imagine the look on people's faces when you tell them you made it yourself!