See why our ink colors for stamps are becoming huge fan favorites!
When we launched our Color Fuse Ink collection, we really did feel they offered some of the best ink colors for stamps and paper crafting. Well! Our customers who have tried these fabulous inks out have all said that our Color Fuse line is their absolute favorite and we are so thrilled! And our designers love them, too, and not just because they are our designers. Because our amazing design team are all "professional grade" stampers, they are picky and want to use only the best.
When we got this project from Natasha, she made a point of saying this "I love the color range in Color Fuse ink and how they stamp so beautifully together!" As we've mentioned before, we spent a lot of time on the formulation of this ink to make sure it performed the way we wanted it to. And then we spent even MORE time on choosing each color, shade and tint to make sure that these fabulous inks would not only work beautifully together within the sets, but also mixed across the entire collection.
Apparently, our hard work was worth it because you all love these inks so much and we are just so happy to have been able to create a line of inks that you value so much.
So let's look at Natasha's gorgeous card and how she made it! First, Natasha selected her ink colors that she wanted to use for her flowers. We just love her choice of refreshing blues!
She stamped her images from our Blooming Hearts set (man, you guys LOVE this set!), following the handy layering guide that we include free in each stamp set. She stamped some additional leaves for layering and then die cut them all out with our coordinating die. You can see that Natasha selected blues with a hint of green and then chose a Color Fuse Set of greens that would perfectly complement these hues.
To set off these detailed blossoms, Natasha decided to do some metallic embossing for her background. She brushed over her white card stock with her anti-static tool, stamped our Sloped Script Background over it with Versamark and then heat embossed with our Mirror Gold powder. While she had her heat tool out, she stamped the Wishes sentiment from the set and also heat embossed that in gold. She trimmed this into a neat little rectangle.
Then she did a bunch of die cutting for all her interesting elements. She cut her embossed panel with one of the dies from our Nested Rectangle die set, ran our Rectangle Combo #4 OPC die through with a piece of white card stock, and used our Birthday Script With Shadow die to cut the detail from matte gold card stock and the shadow from vellum.
Natasha adhered the script word dies together with liquid glue. She then played around with the shapes cut from the OPC die to get some "layers" from the shapes without obscuring the pretty gold embossing.
Natasha then adhered her embossed panel to her kraft card front with adhesive tape, trimmed any die cut elements hanging over the edges, and added all the other elements with liquid glue and dimensional adhesive.
You can see how those flowers really pop with the beautifully coordinated inks from our Color Fuse sets! Here are all the items you will want to have on hand to reproduce this card at home: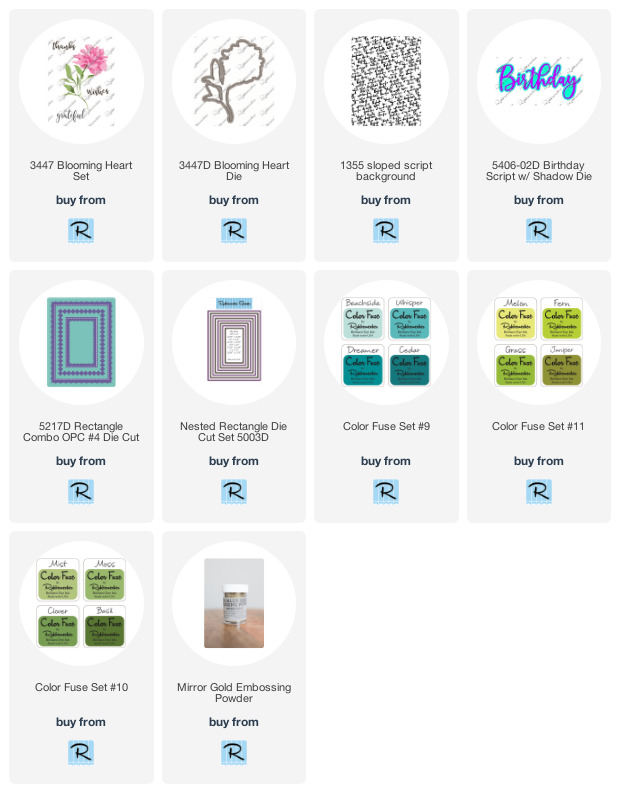 If you had any doubt that our Color Fuse Inks are truly outstanding ink colors for stamps then we are pretty sure this stunning card has helped you reconsider! Pick up one set of four for just $12 and try them out. We are guessing you will become one of the many people who swoon over these luscious inks!