This is a fun trick for how to use nesting dies in a different way!
How to use nesting dies is usually pretty simple – choose ones that are different enough in size to allow you to layer. However, today Melinda is sharing a fabulously fun way to use nesting dies differently and she used one of our classic OPC (One Piece Cut) dies to show it off. Let's dive in!
Melinda shared that she was inspired by her summer garden and we can only imagine how gorgeous it must be! She says she chose our new Amazing Blooms set because it gave her a field of wild poppies vibe. You can clearly see this inspiration brought to life on these two cards – Melinda shared how this fun technique can be used on both vertical and landscape cards.
She started with two panels cut to card front size – our own felt paper for the landscape card and plain white card stock for the vertical card. The stamping instructions below are the same for both.
First, Melinda inked up the flower stamp from the set with Nectar Color Fuse ink from Set #4 and spritzed the stamp with a mist of water, stamping going off the edge of the paper. PRO TIP: Allowing your stamping to go off the paper keeps the eye moving across your entire creation. Next, Melinda inked the same stamp with Posey Color Fuse and stamped a couple more times, inking and spritzing each time.
For the foliage, Melinda stamped the appropriate layer with Fern and Juniper Color Fuse Ink from Set #11, stamping each color twice and putting the darker and lighter greens with the coordinating darker and lighter reds.

Now she took each panel and cut them with our Rectangle Combo OPC #4 die, keeping the two batches of die cuts together. She glued down the largest frames to her two card bases with liquid glue. Then Melinda placed some foam squares over the seams on the backs of the next two frames to hold them together as one element and adhered them next to each card. The next layer – the zig zag, she removed from each set of die cuts and set aside for other projects. This leaves a lovely white gap in her assembly which gives the eye some surprise and helps emphasize the different shapes of the frame layers.
The next frame went on with more dimensional adhesive and the last one was glued directly to the card base.
Melinda took one of her gorgeous cards and using our Build a Phrase #1 stamp set, she created a vertical rendering of "You Are The Best" and stamped it in the center with some black ink. PRO TIP: Use a stamp positioner with a grid to align these words perfectly. If you don't have that, we recommend lining them up and stamping on scrap paper, tweaking if necessary, to get them looking sharp!
For the other card, Melinda cut the Friend from our Friend Script With Shadow once from gold glitter card stock and three times from white card stock and assembled them all together into a nice thick stack with liquid glue. She stamped "You Rock" from our Thanks set in the corner and added her sparkly word.
SO FUN! Here are the things Melinda used today so you can add these to your stash and makes these stunning cards, too!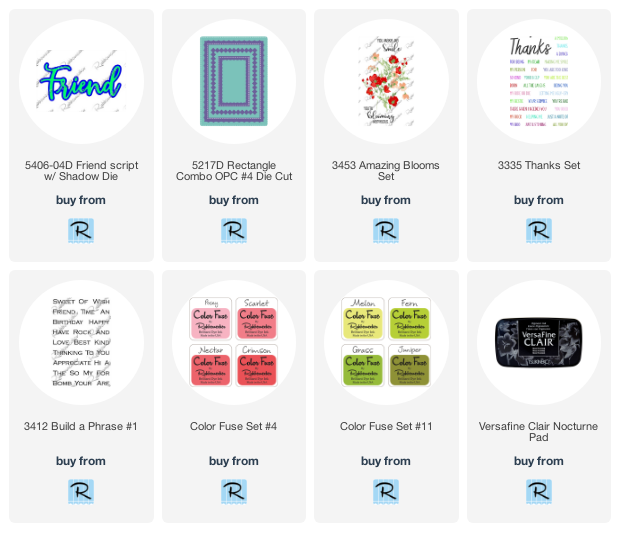 Now that you have this trick for how to use nesting dies in a fresh new way, which set of YOUR nesting dies are you trying first? We'd love to see what you make so don't be shy! Share on our Facebook page so we can ooh and aah!